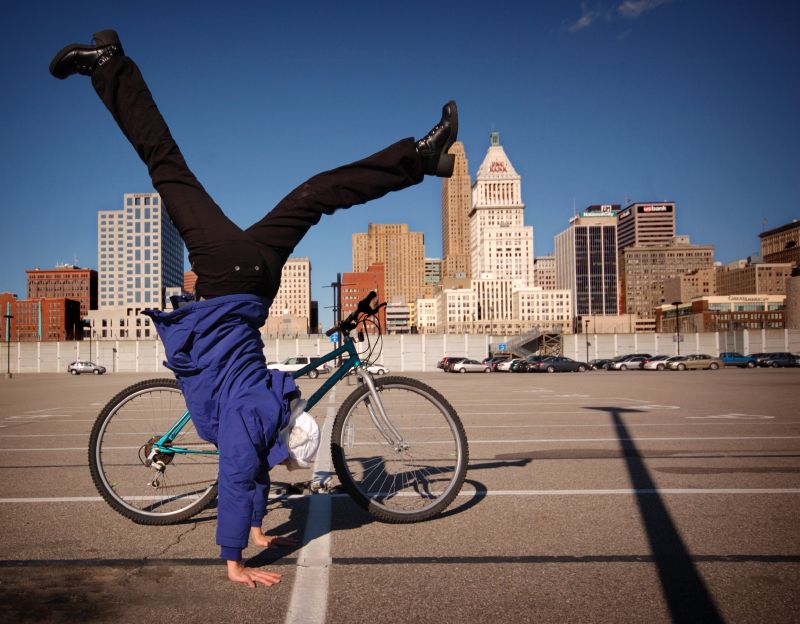 You don't have to go far to hear the dangers of taking risks.  When I was young, I was taught about "stranger danger".  As I got older, people told me about the threats to travelers.
We're reminded of them every day in the news.  Turn on the TV and it won't take long to find dozens of reasons to be afraid and not take any chances.
But what about the dangers of playing it safe?
Look back on your life and think about all the times you took the safe, easy route.  What experiences did you miss?  What awesome people could you have met?
What seemed so scary and risky at the time now seem like missed opportunities.

It's unusual to hear about that.
You don't often see headlines in the news such as "Business never started due to fear." or "Man retires from unsatisfying career and regrets never taking a chance to pursue his dream job."
We notice the dangers of risk-taking because they are attention-grabbing; they're often immediate and dramatic.
We take notice of a story about a traveler who was assaulted and robbed or a risk-taking company that goes bankrupt.
The dangers of playing it safe are slower.  They play out over the long-term and are not sudden.  Yet they can be very damaging.
Playing things too safely can mean:
Staying in jobs or relationships you don't like
Procrastinating too long on your dreams
Never reaching your true potential
Less fun and adventure
The Natural Tendency to Play it Safe
Nobel Prize-winning psychologist Daniel Kahneman once wrote "For most people, the fear of losing $100 is more intense than the hope of gaining $150."
In other words, our drive to maintain the status quo is bigger than the motivation to gain.  People naturally prefer avoiding losses to gaining.  We work to keep what we have at the expense of making improvements.
This is why people stay in jobs or relationships they hate.  It's what keeps you from making positive changes or pursuing your dreams.
But this is no way to live.  You can't grow as a person if you can't get past the status quo.  All you'll do is live a life that is "good enough".
In order to get past the danger of playing it safe, we have to overcome the tendency to do it.  That means overcoming the fear in our decision-making process keeping us in our comfort zones.
The problem is we often let our fears and emotions get out of hand.  We let them grow a lot larger than they actually are which gives a distorted view of what's really going on.  That stops us from making tough, risky decisions that could improve our lives.
Whenever you find fear creeping into your decision-making, look at your decision in three steps:
1. What are your fears? – Be specific.
Write down all your fears.  What are you afraid might go wrong?  What's the worst thing that could happen?
2. How likely are they to actually happen?
Look at each fear you wrote down and analyze them.  Give an honest assessment for each one.  Ask yourself: are they really based in reality or are they completely irrational?
How likely are they to happen?  Try to be as realistic as possible with their likelihood of occurring.  Put a statistic to it, if possible, such as a 10% chance.
3. What's the best thing that would happen if you did it?
List all the potential positives you would get by making this decision.  Would you be fulfilling a big dream?  Would you be getting out of a relationship or job you can't stand?  Write everything down.
Take a look at each list.  Do the potential benefits outweigh the drawbacks?
Recently I made a decision that I was afraid of doing: investing money.  I had the opportunity to get back into investing after a long break, but I was afraid of doing it.
I looked at all my fears and analyzed them.  As I did that, I saw that my emotions were clouding my judgment.
My biggest fear was that my investment would fail.  A worst-case scenario was losing everything.
But as I looked closer, I realized the chance of losing everything was low – and even if I did, I wouldn't actually lose much since I was only investing a little to start with.
My best-case scenario was that I would earn money and implement a new stream of revenue.
It was only after I analyzed my fears that I realized they weren't that scary after all.  It was just all in my head.
I weighed my options and decided the risk was worth it.  After months of thinking about it, I finally did it.
And I got to do it because I stepped back from my emotions and fear and looked at things logically.
When you think through your emotions and fear, you take away the power they have to keep you from new opportunities .  It will help you see that things that are scary at first aren't as frightening after all.
I learned a valuable lesson from all those times I played it safe when I was young.  Now that I'm older I try to see each decision as a possibility to improve my life.  I don't think in terms of maintaining the status quo, I want to make valuable gains.
When you do that, you free yourself to do so much more.
photo credit: Jaybird