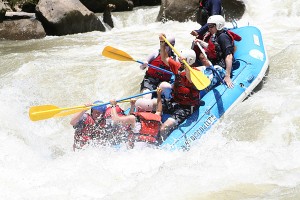 About ten years ago, I found myself doing something I thought I would never do. I hopped on a plane and flew half way around the world so I could travel with a friend throughout Southeast Asia. It was one of the most exciting and life-changing experiences of my life.
The thing I love the most about exciting experiences is the feeling of being alive. Knowing that you're doing something crazy can be just so exhilarating. That's why I've made having exciting experiences a priority. However, I know that sometimes it can seem as if excitement doesn't happen as often as it should. Fortunately there are some things you can do to get more.

1. Be open to excitement
Just being open to exciting experiences can make a huge positive difference. For example one Saturday night a few years ago I got a call from a friend asking me if I wanted to go to a wrestling match in a rural town nearby. We only had a vague idea of where the town was, but I didn't care because it sounded exciting.
I got three friends to come along, but a large group of others refused to go. Those of us who went eventually found the place out in the middle of nowhere. We had some beers, got our photos taken in the ring and even partied awhile with the wrestlers after the match. It was a night I'll never forget. Those that didn't go had a forgetful night re-watching a movie.
Don't pass up on those adventurous opportunities when they come your way.
2. Always be actively searching for exciting experiences
It isn't likely that you'll find an exciting experience by sitting on the couch. You have to go out and make it happen. That means making less time for TV watching and more time for real world interaction.
But even going out into the real world isn't good enough. It's all about how you interact with it. Be a person who takes action, does things and takes risks. Make plans to travel, go on a roadtrip or talk to a stranger. You never know what might happen if you just put yourself out there.
3. Make having exciting experiences routine
I like to think of excitement as a habit more than anything else. It seems that the more you do it, the easier it will be for you to get it in the future. It's as if their exciting experiences draw in other exciting experiences.
I think it has a lot to do with the fact that someone who can get excitement knows where to find it. They have the confidence, know-how or social connections that just make it easier to find. It might be hard to get going, but it isn't as hard to maintain the momentum.
4. Get enthusiastic about yourself and your life
Having the right attitude can really help you find exciting experiences. Exciting people have an enthusiasm and energy about them that is just infectious. That kind of attitude will spread to everyone around you and eventually something fun will happen.
This attitude works so well because you're showing the world just what you expect out of it. It also attracts similarly minded people and situations. Show the world that you're thrilled to be in it and you'll find excitement much easier to find.
5. Find a passion
You can't underestimate the power passion has in bringing excitement into your life. When you find something you can put all your energy into, you naturally get excited about it. It's not a coincidence that the feelings you get for excitement and the ones you get for something you're passionate about are so similar.
Get involved in something that drives you. Is there something you think about trying or something you love doing? Really put yourself into that pursuit and turn it into a passion. You'll naturally find excitement from it.
6. Face your fears and leave comfort behind
When you think about excitement, you might think of activities like mountain climbing or bungee jumping. If those activities have any one thing in common it is that they are all scary and require some risk taking. That's not all that surprising if you consider that fear and risk are both big factors in what makes something exciting.
So if you want more exciting experiences, you have to take risks or face down fear. And you don't necessarily have to do something dangerous. Sometimes something simple like going up and talking to someone new can be really scary, but also exciting.
Put More Excitement Into Your Life
It's never too late to try and get a little more excitement into your life. No matter how dull things have become, there is always room for change. No rut is big enough to stop you if you really want to make things better.
Getting more exciting experiences starts with turning around those dull moments. It might not happen as quickly as you want, but at least there are some things you can do to get that great feeling of being alive back. And that can be an exciting thought.
What's the last big exciting experience you've had? Do you know of any other ways to get more excitement?