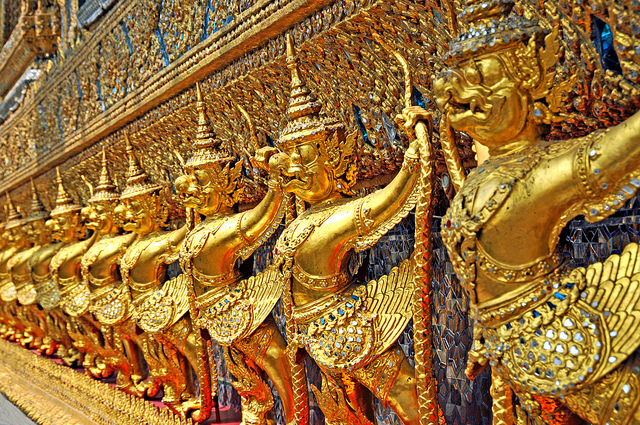 Two weeks is the golden standard of American vacations.  So when I had a chance to see Southeast Asia for a month, my first thoughts turned to my job.  I thought they would never let me off for such a long period of time.
But if you know me, than you'll know that not only did I make the first month long trip, but I also made a second two month long trip the next year.  Each time I came back to work with the same employer.  So how did I do it?  All it took was some courage, risk and luck.
An Offer too Good to Miss
Shortly after I graduated college, I started working for an employment staffing company.  It was such a small business that soon I was on first name basis with the owner.  The work itself was dull and repetitive, but eventually I garnered a reputation for quick, efficient work.
After about a year, I became restless.  I was going through a routine that seemed futile and endless.  It was at this point that a friend asked me to travel with him to Southeast Asia.  It was as if he heard my restlessness and came to my rescue.
My only real obstacle was my job.  For this I came up with a brilliant solution: just ask for the time off.  I realize that two weeks is the norm, but I also realize that it isn't written down anywhere.  There aren't any laws about about vacation time.
I also thought I would ask the owner directly.  It's best to get approval from the person who has the ultimate authority to make these decisions.  Asking for all this time off was the courageous part, the next part, his answer, was the lucky part.
He could easily have said no, but he didn't.  Because I was such a good employee, he was willing to be flexible.  He had a big project coming up that needed staffing workers.  Coincidentally enough, I would be coming back from the trip around the time he would need people to work on it.  He said I could have the time off and work for him on that project when I came back.
So I made preparations for my journey in full knowledge that I would have a job coming back.  It definitely made me more relaxed on the trip overall too.  I ended up spending quite a bit of money so being able to go back to work right away and earn it back was comforting.
It ended up being good for another reason.  I was quite fully prepared to full-out quit and travel.  This trip was not something I wanted; I needed it.  So his flexibility not only saved me the trouble of finding work when I got home, but also saved him the trouble of finding a new good employee.
The Next Year
Of course, this isn't the end of the story.  About a year after my first trip I was, once again, offered a chance to travel through Southeast Asia.  It was too good to pass up.  This time things were slightly different.  I wanted two months off to travel this time.
So I asked.  I told him I would be willing to work under the same arrangement as last year since I knew he would need people again.  The owner was once again very flexible and agreed to the terms.  However, I hit a snag this time.
The general manager of the company, who works closely with the owner, called me into his office.  He had a nice long talk with me about my plans and made it clear that I had permission to go this year and would be offered the position when I came back if it hadn't been filled.  I knew the risks and decided to go anyways.
Another thing he told me was that they wouldn't accept a vacation request like this ever again.  The message was clear to me that this would absolutely be my last long term vacation with this company.  I had no other choice but to accept these terms.
The End of This Story?
While I do admit that I had a lot of luck in this story, there's certainly nothing special about my circumstances.  I think if more people were to ask for longer vacation times, more people would receive them.  Having a lot of flexibility really helps.  Of course I do realize that not all employers are so generous.  A few years later, I asked another employer for a month off to travel.  In that case, there wasn't even a willingness to be flexible about it.  The answer was simply no.
It's just a shame that the two week vacation is such a standard in the country.  Some workers are pressured by employers to not take any vacation at all!  But as long as you're not in one of those situations and you find the courage, maybe you can be lucky enough to travel long term and keep your job too.
photo credit: archer10 (Dennis)