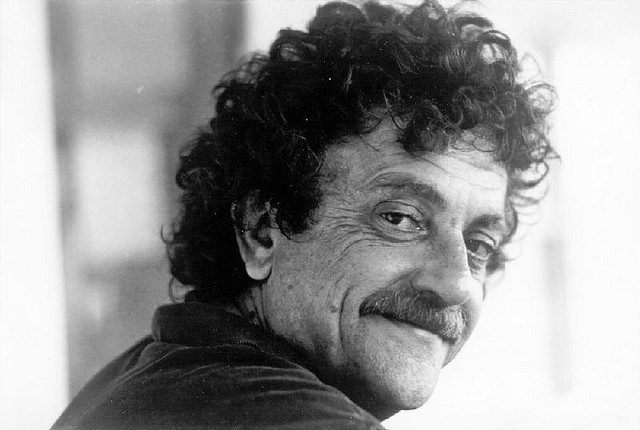 Back in 2006, a group of students at Xavier High School were given an assignment from their English teacher. They were asked to write to their favorite authors and ask him or her to visit the school. Five of those students chose Kurt Vonnegut. He was the only author to write back.
Because he was 84 at the time, he said he was too old to make public appearances, even describing himself at one point as an old geezer and resembling an iguana.
But he did offer an important piece of advice. Here's what he said.
"Practice any art, music, singing, dancing, acting, drawing, painting, sculpting, poetry, fiction, essays, reportage, no matter how well or badly, not to get money and fame, but to experience becoming, to find out what's inside you, to make your soul grow…Seriously! I mean starting right now, do art and do it for the rest of your lives."
Then he suggested an assignment for the class.
"Write a six line poem about anything, but rhymed…Make it as good as you possibly can. But don't tell anybody what you're doing. Don't show it or recite it to anybody."

"Then tear it up into teeny-weeny pieces, and discard them into widely separated trash recepticals [sic]. You will find that you have already been gloriously rewarded for your poem. You have experienced becoming, learned a lot more about what's inside you, and you have made your soul grow."
Growing Your Soul
Weirdly enough, I've been telling people to do this a lot lately.
I get lots of emails from readers who are looking for advice. Generally speaking, I get asked two types of questions.
I'll be asked how to do something. When I get asked this, I'll reply with an honest and detailed account (often pages of advice) of the best course of action to the best of my knowledge.
But usually I get asked by people about what they should do.  They're trying to find some direction and looking for their life's purpose.  They want me to tell them what decision they should make.
I find questions of should much more difficult to answer.
I try to give as much honest useful feedback as I can and explain what I would do in that situation, hoping that guides them to a good decision.  But what makes it hard is that I can't pick a path for that person – after all I'm not them.
We all live our own lives and need to make the decisions we feel will improve them in order to make us happy. If I make that decision for someone else, then it's no longer their life, it's mine.
So for those who feel lost and are looking for some sense of direction – something they should be doing, I tell them to make some art and explore their creativity.
Here's why.
Creativity isn't just a process of making art – it's about discovering your inner self and bringing it out into the open. Creativity gets into your mind and soul and brings out new ideas and thoughts you may never have known were there.
It may sound weird, but creativity can give you a better sense of who you are, your life, your direction and what's important to you.
I know this because it happened to me.
For much of my life, I've struggled with a sense of purpose and direction. I'd ask myself "where am I going?" or "what do I want out of life?" and get vague answers in return. I'd search out advice to no avail.
What gave me a sense of clarity and focus on what I really want out of life was writing, especially when I started this blog.
I started this blog over four years ago with a drive to help other people seize the day and get more out of life. From the emails I get from people, I'd say I was successful. But strangely the person who it's helped the most is myself.
By regularly writing for this blog, I kept digging into my thoughts and emotions to make sense of what was going on in there. What I bring out often surprises me. In one instance, what I wrote was so revealing that people messaged me to tell me just how brave I was to write about it.
The more I exposed myself creatively, the more I experienced what Vonnegut described as becoming. I got to know myself better and became more sure about what I want out of life in order to confidently find purpose and direction.
So I hold Kurt Vonnegut's advice closely to my heart because it has helped me in ways it's hard to describe. Simply the act of creating has helped me discover more about myself and guided life decisions more than anything else I've ever done.
I'm with Vonnegut on this advice: get creative. Paint something, write a poem, act, play music, start a blog. Dig down deep into your soul and bring out ideas and thoughts you never knew were there.
Explore the deep recesses of your mind and lay them out in front of you. It's fine to show it to others, but it's more important to show it to yourself. Even if no one sees them, you'll have already won – you'll have grown your soul.
photo credit: vhauri