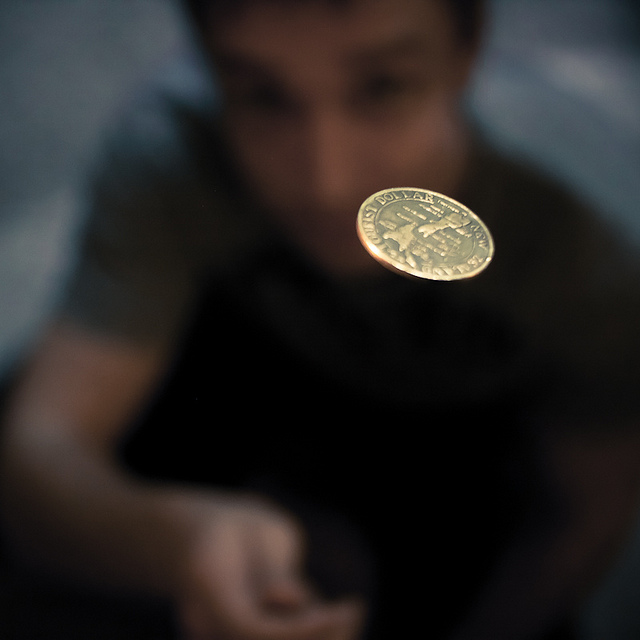 In one afternoon, my wife and I spent an exorbitant amount of money on a risk with only a 50% chance of success.
The sum total – which my wife and I want to keep private – represented a large portion of our entire combined savings. It's a huge risk, but, under the circumstances, one we're both willing to take.
Before I get into what we spent our money on, I want to give a little back-story.
Three weeks ago, my wife and I celebrated three years of marriage.  It's been a long, crazy adventure.  We've traveled, had some good times and even moved to the other side of the country together.
For the past two years, we've wanted to take the next step together and start a family.  It's been a lot more difficult than we expected.  For some reason, nothing is happening.
We've both been examined thoroughly and no one can find anything wrong with either of us.  Frankly, our problem has stumped doctors.
About a year ago, we started getting fertility help from specialists.  We tried a series of relatively low-cost treatments, but after several tries, we got nowhere.
Now we've had to drop the big bomb on the problem.  In order to get what we want, we have to use In-vitro fertilization (IVF) which is a long, specialized medical procedure.  I won't go into the specifics here, but – suffice to say – it's a major treatment.
It's also our last resort.  Neither of us want to adopt at this time, so this is it for us. If it doesn't work, we'll likely be childless for the rest of our lives.
And that's what we spent our money on recently – a last chance.
On the plus side, we used a new credit card with a signup bonus of 100,000 American Airlines miles so the next few flights we take will be free.  It's good to do some travel hacking, but I just wish it was under different circumstances.
Why We're Doing It
This decision wasn't easy.  With all the money that goes into the procedure, you'd hope that the chances were a little better.  Statistics say that our likelihood for success is 40-50%; I'm just being optimistic and saying it's 50%.
That's basically the flip of a coin.
Heads it works and we get what we want.  Tails we lose everything.
But my philosophy of life tells me to take that risk.  It's our last chance to get something we both really want –  we have to keep going despite the odds.
Sometimes life isn't fair.  The world will stack the deck against you, but that doesn't mean you have to just roll over and take it.  You have to keep going and fight with everything you've got to get what you want out of life.
If my wife and I gave up – if we had just accepted our circumstances and fallen short of everything we could have done, we would never have forgiven ourselves.
If we didn't take this chance, we would always look back on this moment and wonder, what if…
There is a chance the coin will show tails and we'll lose everything.  We're preparing ourselves for that possibility.  At the same time, we're preparing ourselves for success.  It's up to the coin now.
It's funny.  Sometimes I'll hear people tell me about risks they want to take.  They'll say the chances are too slim or worry about what they might lose if it doesn't work out.
It's perfectly reasonable to turn down a risk if it's not worth it.  If my wife and I really didn't want this as badly as we do, we would simply accept the situation as fate and live the rest of our lives in peace.
But when you want something so badly, can there be any other choice? Can you really live the rest of your life knowing that you didn't take every single shot that you could have?  The alternative is to live the rest of your life with that nagging feeling of what might have been – that's not how I want to live.
If it doesn't work out the way we want, we'll both be very sad.  However, we'll hold our heads up high knowing that we gave it our all.  We laid everything down on the line for what we wanted.
There are moments from my past when I didn't give 100% to a goal I highly desired.  When I look back now, I can only wonder what might have happened if I had done things differently.  As I move forward in life, I realize just how important it is to give your most important goals everything you've got.
I want to end this post with an abbreviated excerpt from Rudyard Kipling's poem "If—"
If you can make one heap of all your winnings
And risk it on one turn of pitch-and-toss,
And lose, and start again at your beginnings
And never breathe a word about your loss…
Yours is the Earth and everything that's in it,
And—which is more—you'll be a Man, my son.
photo credit: Pauli Antero