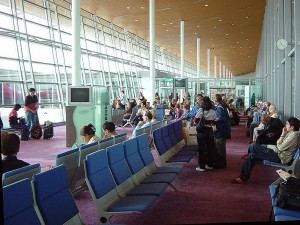 Travel is one of the greatest experiences you can do. However, there are many pitfalls you can get yourself into. Sometimes the simplest problem can turn an otherwise wonderful trip into a disaster. That's why it's important to understand common travel problems. If you know how to handle these simple problems, you'll be ready for just about anything.
Before the flight:
What to Bring
There really aren't many items you have to bring with you. All you really need is: money, one set of clothes, prescription medication, a passport (if you're traveling internationally) and a backpack. That's it. If you forget your toothbrush or toothpaste, you can buy them when you arrive. The same goes for clothes, medication such as Tylenol, shampoo and other toiletries.
A guidebook is also recommended especially if you're traveling overseas, but this is another thing you can probably pick up when you're there. Many hard-core travelers carry so little with them that they fit everything into a backpack as their carry-on luggage.
Missed Flight Departure
Somehow you missed your flight, remain calm. Maybe you overslept or traffic delayed you. Either way, you need to check in with your airline. Tell them your situation and work with them to find a different way to your destination. Be open to later flights or other airports to fly into. Also, be prepared for a rebooking fee. Be polite with the airline agent and eventually they'll get you to where you want to go.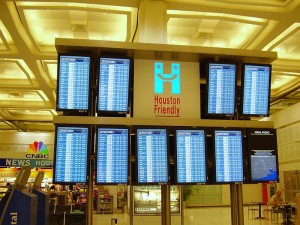 Flight Delay or Cancellation
There isn't much you can do to prevent this. Most of the time, flight delays or cancellations are a result of the weather or mechanical issues. You can minimize this by scheduling direct flights to your destination. If you need to make a connecting flight, try to make the layover between flights longer so that any delays won't make you miss a flight.
If you're bumped from a flight due to overbooking, than check in with the airline since you probably can get lodging and food compensation. If the flight is cancelled due to weather or mechanical issues than you don't receive anything and have to wait. Just keep up to date with the flight schedule and make changes as needed.
After the Flight:
Lost or Damaged Luggage
Unless you're a hard-core traveler using only their carry-on backpack as their source of luggage, you'll face the chance that your luggage will be lost. About 1 in 150 travelers will experience lost luggage. If your luggage is lost, report it immediately and fill out a form. Keep all your documents including airline tickets, forms, baggage claim checks and any correspondence. Make sure to check if there is any compensation you can receive for delayed luggage. Most luggage is found and brought to you within a few hours to a few days. The airline will typically bring it to you so you don't even need to go to the airport to pick it up.
In total, of all the luggage lost only 2% is never found. If that happens, most airlines will reimburse you. Unfortunately, the same can't be said for damage. Most airlines won't reimburse your for any general wear and tear; however, if you feel the damages are substantial, make sure to report it to them right away.
All permanently lost luggage in the United States ends up at the Unclaimed Baggage Center in Scottsboro, Alabama. It is eventually sold off for a profit.
Car Rental Cancellation
If your flight is delayed or cancelled, your car rental place might assume you're not coming. In that case, they may rent your car to another person. To avoid this happening, make sure they know your flight number so they know about delays. Also, keep their phone number and confirmation number with you so you can call them and let them know if you're going to be late.
Finding A Place to Stay Once You've Arrived
This is a big concern among first time travelers especially if you're traveling overseas. In reality, it's not difficult to find a place to stay as long as you're in a touristy area. If you have a guidebook, then pick a place that sounds good to you and take a cab there. If it's full when you get there, just walk around and find another place. There will be one nearby. You can also ask if there is somewhere nearby you can stay at.
Jet Lag
You can minimize jet lag several days before your trip. Adjust your sleep schedule a few days before you go and you won't feel the jet lag much after you arrive. Drink plenty of water and get lots of exercise. That will reduce jet lag's effect.
Check out part 2 about what to do when problems happen during your trip.
.