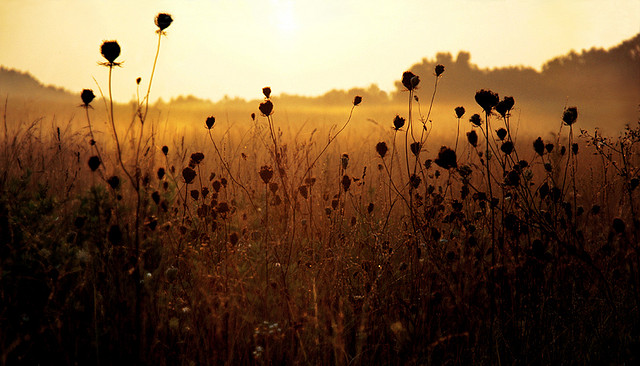 I think one of the most uncomfortable truths about life is the realization that one day you're going to die.  But rather than sadden me, I find the concept weirdly liberating.  To know that I have a finite time on earth reminds me that I need to keep moving if I want to experience everything before I go.
It also leads me to some really hard questions.  What do I want to say about myself right before I die?  When I sit back and reflect, will I be proud of the things I've done or have some regrets?  These questions have stirred up my thinking and guided me to what I think are the five things you should be able to say about yourself before you die.

The five things you should be able to say before you die are:
1. I accomplished everything important.
We all have hopes and dreams for the things we want to accomplish throughout our lives.  But how often do you make enough time to pursue them?  I used to leave my big goals to that perpetual holding pattern called "someday", but then I realized that this is a losing strategy.
The ancient Jewish scholar Hillel the Elder has a saying I think you might be familiar with, "if not now, when?"  It's a saying I hold near to myself as it perfectly captures the idea of taking the time to do things important to you as soon as possible.  After all, the only time you have to do those things is while you're alive, so you might as well get started right away.
It's easy to get sucked into time-consuming things like work, house cleaning and television.  But remember, no one ever died saying they wished they had spent more time in the office.  Do those things you find most important and you won't regret it.
2. I expressed myself fully and honestly
One of the challenges of life is feeling free to openly express to the world just who you are as a person.  There's a tendency to repress your thoughts and personality because you're afraid of what others might think about you.  So you go through life unwilling to show the world your true self.
Part of the problem comes from knowing just exactly the kind of person you are.  Surely, one of life's greatest questions is this – who am I?  It's also one of the hardest to answer.  It takes a lifetime of self-reflection and awareness to completely understand you as an individual person and as a human being.
Before I get to the end of life, I want to know everything there is to know about me.  Then I'll be able to bring out all those great qualities and show them off to the world.  As you're learning about yourself, don't be afraid to express your thoughts, opinions and who you are as a person.
3. I made a difference
At the end of most days, I look back and wonder just what kind of difference I've made in the world.  Whether it's a small change such as opening the door for someone disabled or by touching the lives of thousands through this blog, I want to make a positive difference.  As long as one of my actions made the world better off, I feel as if the day was worth it.
For the most part, I think making a difference in the world is about what kind of legacy you're leaving behind after you die.  I want people to read my obituary and be grateful I was around, even inspired by what I've done.  I think it would be a shame to leave the world worse off just because you were born.
4. I made enough room for close friends and family
A big part of living a good life is about relationships.  Some of my greatest memories have come from the time I've spent with family and friends and many of those experiences I could never duplicate with anyone else.  The close ties you have with these people can be extremely fulfilling and the relationships themselves are rewarding.
It can be sad when friends drift apart and you lose touch with them.  But saying goodbye is so often a part of life that all you can do is cherish the time you have with them while they're around.  At least there's always Facebook to keep track of everyone so it can feel as if they aren't gone forever.
Still, make time for your friends and family while you still can.  One day you'll be thankful for all that effort.
5. I followed my passions
I feel grateful that I've filled my life with as many passions as I have.  In fact, I often have more passions I'd like to pursue than I have time to pursue them.  But I see that as a sign of a life well-lived.
Make time for the things you're passionate about.  These are the things that you get excited about when you wake up first thing in the morning.  You'll never regret all the time you spent on those pursuits that make you feel alive.  They are the things that made you happy, gave your life purpose and filled your days with endless joy.
Bonus #6 – I Lived
If you added up all these things together, it would all come up to one basic goal: to know I lived life to the fullest.  I think pursuing these five things will help me do that.  I know that I have many years to go before I look back and reflect on everything I've done.  Hopefully, I'll feel pride and fulfillment.  In all likelihood, how I feel won't be something they'd mention in the obituary, but to me, that's the most important thing.
photo credit: Brian Hathcock