It's no secret that I want to see every country on Earth at least once before I die. With about 200 countries to see, it's quite the ambition. But it's important to me that I get this done, so I came up with a rough travel itinerary spanning my lifetime. Hopefully, by sharing this with you you'll come up with a better and more efficient way to organize your travels too.

The Rough Outline to My Itinerary So Far
I think starting off traveling in Asia works the best. Unless you grew up with parents who took you traveling, you most likely won't have seen many of these countries. This is perfect for those traveling in their early twenties. Asia is mostly cheap (with a few notable exceptions) so it won't hurt the budget of anyone who is young.
The only thing that makes the trip expensive is your plane ticket. However, because you're young and have fewer commitments you can travel for longer periods of time. You're not likely to be married with kids and you're at a time before starting your career. This is the perfect time in your life to travel for several months at a time.
Another advantage for traveling through Asia when you're young has to do with the poor infrastructure there. It's harder for people to go through these countries so doing it while you're young makes sense. I'm not suggesting that older people can't travel through these countries. Of course they can. But the packed buses, intense heat and unsanitary conditions make it difficult.
Using this method, you might not get to see every country in Asia. But that's okay because there's so much more of the world to see and you don't want to stick to just one part. That's why I moved to a different area of the world for my late twenties. This is the time for Central America.
I picked Central America for this time in my life because it is so close to the United States that getting there is relatively cheap and quick. This makes sense for your late twenties because you may be starting a career and not have as much time to get away for traveling. Plus, costs there are still relatively cheap. It may not be as cheap as Asia, but it is still cheaper than your next nearest option: Europe.
The Rough Life Itinerary to Come
Now that I'm in my early thirties I can travel further than Central America. I have more spending money now that I'm debt free so I can splurge a little more on a plane ticket. Plus, I still have enough youth and vitality to handle harsher travel environments. So for the next several years I plan on traveling mostly to Africa and the Middle East.
By your early thirties, you'll be more established in your career. Pick the right career and you may even get a longer period of time to travel than the standard two weeks in the United States. For instance, I'm going to be a high school teacher. I'll be getting three months off every year to dedicate to traveling. My fiance is a nurse and she can take a month off in a row to travel. That's not enough for her though and she's planning on becoming a teacher too so we'll both get three months off each summer together.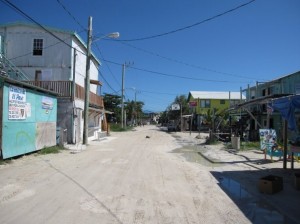 By the time I reach my late thirties I will have seen most of Africa, the Middle East, Central America and Asia. This is the time I will start focusing on South America. I think this will be a good place to go in this time period of my life since it is more expensive than anywhere I've been before. Plus, the plane tickets there are costlier. By this time, I will have saved up some money and will have more of it to spend traveling.
Coming off Africa and the Middle East, the countries in South America will probably seem easier to travel through too.
Lastly, I will tackle Europe. This is the most expensive area to travel through so I'm going to focus more on it when I'm older and have more money. Plus, the accommodations and infrastructure there are more comfortable. That will make it much easier for me to travel through when I'm older and desire a little bit more comfort while traveling.
Changing Plans as I Go
Obviously the plans I've set out here may not reflect reality when I get to those points in my life. In fact I'll be visiting Europe later this year for my honeymoon. But I think detailing out the travel plans for your life is a good idea if you think seeing a lot of countries in the world is important.
You have to realize that you might not actually make it to all the places you want to see in your life. But by having clear plans for your travels, you'll at least see a big chunk of the world.
I also realize that some parts of the world deserve my attention much sooner than I planned. Machu Picchu and Easter Island are at the top of my list to see so I'm making plans to see them much sooner in my life. Remember, my lifetime itinerary is a rough plan.
Plus, I didn't mention covering countries I may miss as I go. For instance, I still have yet to see Indonesia. Despite focusing on my rough plan, I'm still planning on going there. I will get to it, but it will probably be awhile. By the way I didn't forget about cities I want to see in the U.S. and Canada, I'm planning on spending time here and there to see them too.
The point of this post is to get you to think of all the places you want to see and making the best plans possible for seeing them. Have you listed out every place in the world you want to see? You don't have to see every country like me, but if you list out all the places you can make the best lifetime itinerary to see everything.
photo credit: Ian Hsu (iandoh)