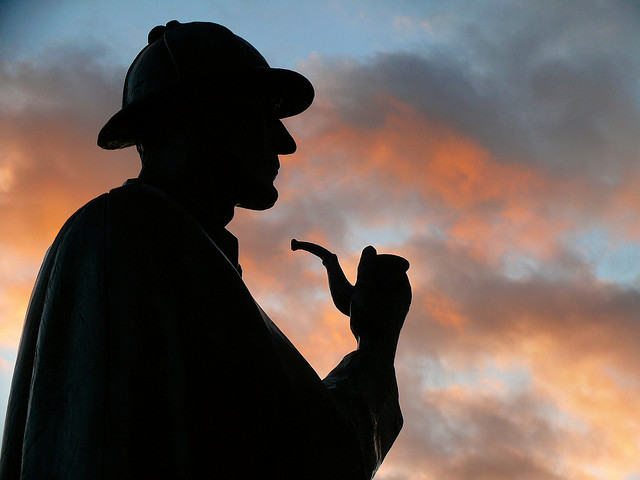 Since Sherlock Holmes' first story in 1887, he's appeared in hundreds of adaptations. We're all familiar with him to some extent. In fact, when we think of hard-nosed detectives, his name is usually the first we recall.
I remember seeing parodies of him in cartoons when I was a little kid. Even though I had never read one of his stories, I somehow knew who he was. He's that ingrained into our culture.
So what makes him so memorable?
Sherlock Holmes is known for his eccentric behavior and dramatic mood swings. He's constantly performing odd experiments and bickering with the various people that surround him. His personality is unique and stands out from most other characters.
But it's more than that. When he gets involved in a mystery, he tenaciously holds on until all the clues come together. The way he works through problems and difficult tasks is endearing. We like him because he has admirable qualities that we want to emulate.
There are unique qualities that Holmes brings to each of his cases that makes him more successful than anyone else. And even though he's only a fictional character, there's a lot we can learn from him.
Here are some of the things he does that make him so successful:
1. Well-developed base of knowledge
Whether it's knowledge about chemical reactions or how to analyze different types of soil, Holmes knows a lot about many subjects.
Having a large stockpile of information to work with can be very beneficial. When you're working on problems, you're more likely to come up with a solution. Often, the answer can be right in front of you, but you might simply miss it if you don't have the correct knowledge to work with.
2. Sees things in new and imaginative ways
When Sherlock Holmes gathers clues, he's not just looking at them individually. He's also twisting and combining them together to form a picture in his head of what actually happened.
That's creative thinking. When you can put pieces of data together to form a bigger picture, you're using your imagination to stitch together a series of events. It's about mixing and matching details into a coherent image in your head.
Holmes is especially good at recognizing patterns and making connections. He plays images in his head to give him a much bigger story than what's directly in front of him.
You can see his creative imagination more clearly at the end of his cases once he's solved everything. As he tells Watson the significance of each clue, he describes clearly how each one fits into the overall actions of the mystery.
3. He seeks new experiences
Sherlock Holmes' life is never dull, even when he's not out solving a mystery. In his free time, he's always trying new things or working on some new bizarre experiment.
He thinks nothing of chasing people down the street or courting danger. His toleration of risk is higher than the average person.
By being able to tolerate risk and ambiguity, you're more likely to test your boundaries. Seeking new experiences gets you out of your comfort zone and helps you understand just what you're capable of accomplishing.
4. Driven by his own interest
Sherlock Holmes often turns down cases that don't appeal to him unless something sparks his interest.  He only seems to like particularly bizarre or difficult mysteries; ones that challenge him and push his skills in order to solve.
Holmes is intrinsically motivated in what he chooses to do.  Rather than working on something for an external reward, he only tackles cases that challenge and excite him. What he likes most, is the work itself.
This is a great way to bring out your best work. We're often at our best when we're doing difficult tasks we're passionate about and that push our abilities and knowledge to a higher level.  Challenging work can be very engaging; being passionate about something can be very satisfying and fulfilling.
5. He keeps good company
The most successful inventors, artists and scientists from the past usually didn't work alone. They had people who mentored, challenged and pushed them to do even more. Sherlock Holmes is no exception.
Sherlock kept Dr. Watson around so he could knock around ideas and work through problems. Just when Holmes seemed stuck on a mystery, Watson would say something that would make him think about a problem in a brand new way.
Don't underestimate your creative support. The people around you can be extremely beneficial in idea generation or simply to keep your spirits up when you need them most.
Having someone around that you can confide in can help you come up with solutions to problems or ways to overcome obstacles. The right environment might be just what you need to get your creative thinking into a higher gear.
photo credit: dynamosquito