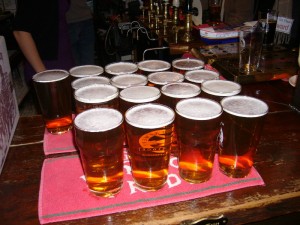 A pub crawl is a great way to share a beer or two with a close friend. It is also a great way to share a beer with a group of people wearing funny hats or costumes. Either way, pub crawls can be a great way to make friends and have a good time.
Pub crawls come in many forms. The basics for them are all the same: get together for a few drinks. But there really isn't one type of pub crawl. As you'll see from this list, the differences between pub crawls and the themes between them are vast. So if you're up for a good time, check out one of these pub crawls, share a pint or two and make some new friends.

1. World's Greatest Pub Fest
June 13th, Maryborough, Australia
The Guinness world record for the largest pub crawl was at this event in 2005. It has beaten that record every year since. This accomplishment is even more impressive when you realize Maryborough has a population of only 26,000 people. The pub crawl has another purpose besides breaking records; it is for charity. The proceeds from the 2010 event went to prostate cancer.
2. Hunterdon County Bar Tour
Fall, Hunterdon County, New Jersey
Originally planned as a tour of the fall foliage throughout Hunterdon County in 1977, this is one of the oldest bar tours in the country. It is also one of the few bar tours that is county wide. Since it is county wide, that means this isn't a walking tour. The bar tour is also known for being awarded a charter by the American Bar Touring Association and for the presentation of a "Tavern of the Year Award".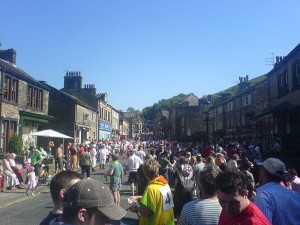 3. Zombie Pub Crawl
October 9th, Minneapolis, Minnesota
If you've ever wanted to dress up like a zombie with a large group of people and imitate the walking dead all while drinking beer than this pub crawl is for you. Started in 2005 this pub crawl has grown to almost 5000 people in 2009. Since then, the zombie themed pub crawl has exploded to other cities including Philadelphia, Chicago and Washington D.C.
4. Monopoly Board Pub Crawl
July 30th, London, England
A Monopoly Board pub crawl involves visiting the places on Monopoly board special editions that use a particular city's locations as board pieces. The goal is to visit as many of the 26 locations on the board in an evening as you can. The most famous of these pub crawls is in London. The Monopoly pub crawl in London is sprawled throughout the city, but the organizers list out the best path to take using the London Underground. Drink alcohol at each location and you can even make it into the hall of fame of their site with a red hotel game piece next to your name.
5. Buenos Aires Pub Crawl
Monday through Saturday All Year, Buenos Aires, Argentina
The largest pub crawl in South America. It's not a traditional pub crawl that happens once a year; it happens six nights a week all year long. Because of the number of crawls it does each year, the groups are smaller than the other pub crawls on this list with as low as dozen up to 250 people each night. The pub crawl is targeted mostly to travelers so you'll meet people from all over the world and have the opportunity to share a drink with them.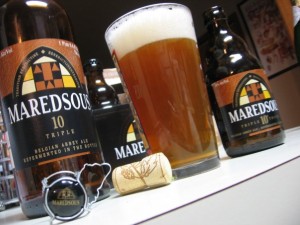 6. Luck of the Irish St. Patrick's Day Pub Crawl
March 17th, New York, New York
Thousands of pub crawlers go to about 100 bars in this three day yearly event. The crawl takes in some of the more famous bars on East Side Manhattan. The event invites you to try one night or all three if you're really adventurous and hate your liver. The entire event spans five miles so expect to do a lot of walking. The thousands who attend each year makes this one of the largest pub crawls in the world and it even contests the title for the Guinness Record for largest pub crawl with The World's Greatest Pub Fest exchanging the title back and forth.
7. Boston Bar Golf Pub Crawl
April 24th, Boston, Massachusetts
This is probably the most famous "Bar Golf" pub crawl. If you're not familiar with how a "Bar Golf" pub crawl works, here are some of the rules. A group of people in goofy golf outfits go to nine bars (or holes). Each "hole" is an opportunity to score points in a predetermined manner. For example, you get one point for every drink, one point for someone signing your shirt, minus one point for spilling your drink. You even get a Caddy to record your score and give moral support.
8. Santa Claus Pub Crawl
Second Saturday in December, Wollongong, Australia
This event brings the joyous Christmas spirit to the pub crawl scene. Dressing up in something Christmas themed is the only requirement for this pub crawl (even just a hat would suffice). The pub crawl is over 15 years old and is the oldest Santa pub crawls in the world. All the participants are asked to bring an unwrapped toy to the event for donation to the Salvation Army. In 2008 over 2000 people went to the pub crawl and donated over $55,000.