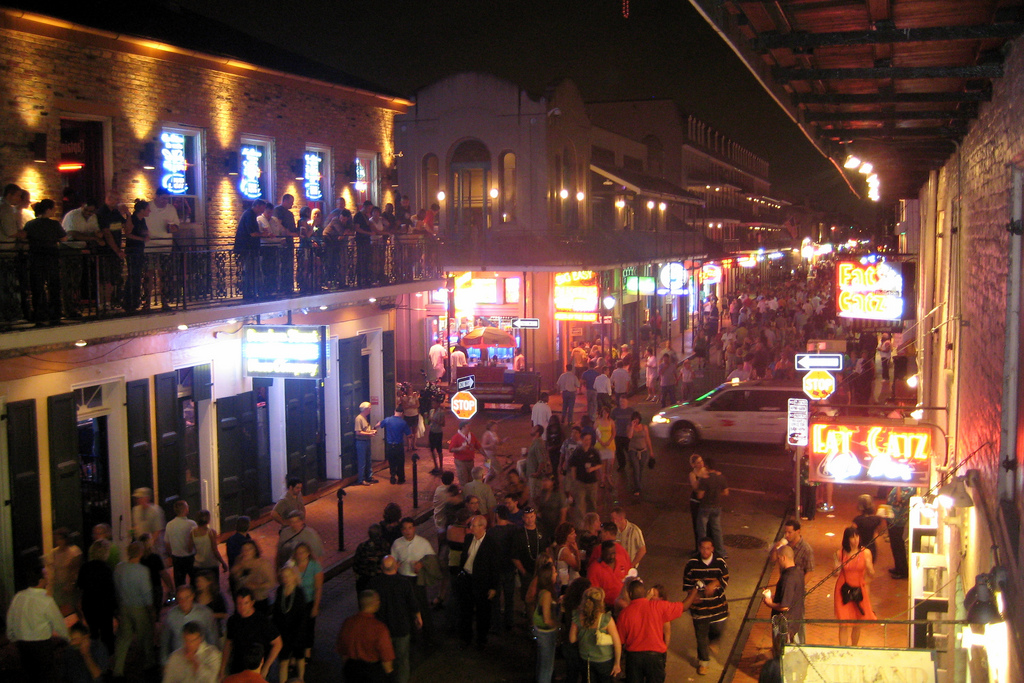 When I was in college, I put going to Mardi Gras on my bucket list.  The opportunity to do heavy drinking and party with a lot of topless women was very appealing.
My circumstances have changed a lot since then.  I rarely drink now and I'm married, so picking up women just isn't going to happen.
But I still wanted to go just to see what it was all about.
One of the advantages of moving to Houston last year is its proximity to New Orleans.  When the Mardi Gras season rolled around, I was just a five hour drive away.
So I finally got a chance to go this year.  And, wow, I was glad I did.
My hotel was only a block away from Bourbon Street and the French Quarter – a five minute walk to all the partying and festivities.
Now that I've experienced it, I can honestly say that Mardi Gras in New Orleans has a lot more going for it than beer and public nudity.
Here's what I loved about it:

1. The huge spectacle
A big part of the fun about Mardi Gras are the parades.  At times, they can seem never-ending; they last for hours.
Countless gaudy floats pass by with people throwing beads by the handful (sometimes even the bagful) to the crowd.  They'll also throw stuffed animals, toys, coins and other objects.
When the parade is over, broken beads, discarded cups and toys lined the street.  One tree's branches were completely covered in beads.
It's a massive event with people enjoying themselves and having a good time.  You can feel the excitement.
2. The uninhibited nature of Bourbon Street
During the day, Bourbon Street seems like your average street.  But at night it's a packed with people and full of life.  It's the main area for nightclubs and bars and where everyone seems to head to party when the sun goes down.
The street is closed off to traffic so people can walk freely about.  Partying and drinking flows out of the bars and onto the streets and back inside again.  This is where you'll see women flashing for beads (it's not allowed elsewhere).
Along with drinking, you'll see a lot of stores selling sex. Lingerie and pornography stores and even places offering live-sex shows line the street.
I was in Amsterdam a few months ago and it was uncanny how much Bourbon street reminded me of its Red Light District.  At the time I thought that no American city would emulate that part of Amsterdam, but I was wrong.
3. Beignets, Gumbo, King Cakes and more
I'm not a big foodie, but I still like to try unique food items while I'm traveling.  And New Orleans has plenty of unique items to choose from – gumbo, jambalaya and crawfish just to name a few.
I stood in line for fifteen minutes in the rain waiting to be seated at the famous Café du Monde for beignets and coffee, but it was worth it – even if they piled on way too much powdered sugar.
Mardi Gras is also famous for its circular doughy pastries called King Cakes.  Inside each one is a small plastic baby (supposedly representing the baby Jesus).  If you get the piece with the baby, you're king for the day and you're supposed to host the next king cake party.
4. New Orleans itself
New Orleans is a strange amalgam of French, Spanish and American style.  All its influences and history give the city a blended architectural style that reminded me of multiple places I've been.
At various times I felt like I was in Western Europe.  Other times I felt like I was in Granada, Nicaragua.
You never know where you'll end up when you walk around.  One minute you're passing by a Voodoo shop and the next you're walking along the Mississippi River.  It's a place I wouldn't mind getting lost in for a while.
5. Jazz, sweet Jazz
Whenever I travel, I try to find a Jazz club – I still remember one awesome Jazz bar I went to in Vietnam with great music.  It's not always easy to find one though.
But you'd expect to be able to find Jazz in New Orleans.  After all, it's the birthplace for the genre.  Plenty of bars and restaurants had the music on offer which made it easy to find.
It always seems like Jazz is best live.  There's something about hearing Jazz live that makes me appreciate the artistry of music, the spontaneity it can have and the beauty it evokes.
There was other kinds of music too, not just Jazz.  Even the smallest bars seemed to have live musicians playing everything from Hard Rock to dance music.
6. The loose and relaxed atmosphere
Many cities have a "feel" to them, which I would describe as a general atmosphere you get based on the people, architecture and culture.
If I could describe New Orleans during Mardi Gras, I would say it's this: relaxed uninhibited fun.
As long as you respected others and obeyed the law, it seemed as if it was anything goes.
People dressed up in all types of costumes.  I saw a small group of women walking around wearing wings and Viking helmets.
People could drink on the street, be loud and crazy without the fear of being hassled.
It was refreshing to see such a loose atmosphere and environment where people could get a little crazy and just go wild with the fear of being judged or hassled.  There's something freeing about being able to express yourself without restrictions.
photo credit: Wally Gobetz