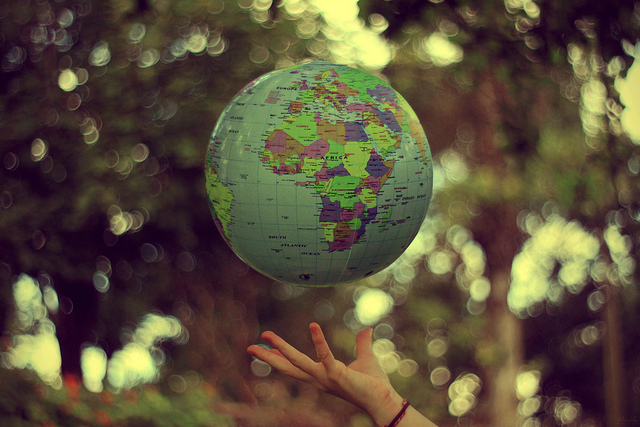 I hear a lot of people complain about how messed up the world is. I get it. I truly do. War, poverty and crime are continuing troubles. Our leaders seem incapable of doing anything right and, all the while, problems keep mounting ever higher.
That's one way to see the world. It's not my way though.
I'm one of those few people online who actually admits to paying attention to the news on a regular basis. It seems to be a common fad to condemn the news media as a purveyor of negativity and pessimism. They're often accused as being a source for sad stories that only serve to make us feel bad.
But the news never makes me feel pessimistic about the state of the world – it just doesn't. That's because I don't pay attention to individual stories as much as I do the overall trend of where the world is moving. And if you look at the data, you'll see that there are many reasons to feel hopeful and optimistic.
You have to look at trends over time to see just how much better the world is becoming. Let's look at some of the data:
Health and Well-Being
Average life expectancy worldwide in 1960 was 52.48 years. By 2012 it has increased to 70.78 years.
According to the Global Hunger Index, global hunger has decreased 39% since 1990.
Extreme poverty (living off $1.25 a day or less) affected 43.1% of world population in 1990. Today it is 20.6%. There are even serious talks between governments about eliminating extreme poverty permanently.
Freedom and Self-Determination
According to Freedom House, in 1975 there were 41 free countries and 63 not free (the rest were in the middle). By 2013 the numbers had reversed. Now, 90 are free and only 47 are listed as not free.
Education
In 1970, 37% of people worldwide were illiterate. Today it's just 15%.
The number of years people spend in school increased in developing countries from 1.7 years in 1950 to 7 years in 2010.
Crime and Conflict
Crime in the United States has dropped year after year to low rates we haven't seen since the late 1960s. The crime rate is getting better all over the rich world, not just the U.S.
War has decreased too. In the past decade we've averaged 55,000 deaths a year from war (both civilian and military). But that's lower than the 1990s (100,000 a year) and way lower from 1950 to 1989 when the average was 180,000.
More Evidence the World is Getting Better
Not convinced yet? How about improved access to clean water, sanitation and internet usage? How about the fact that the freedom of press is getting better too?
Need more?
How about the better child mortality rates, maternal mortality rates and death rates from cancer?
I could go on – seriously, there are dozens more pieces of good news I could add – but looking up and linking to all this information is tiring me.
When you actually look at the trends, it's hard to not see anything but a brighter future ahead of us.
None of this is to suggest we don't currently have any problems. There is still crime and violence and a world completely without war is a long way away. Obesity, the high cost of healthcare and education are growing problems too.
But even then, I remain optimistic.
Today's problems may seem insurmountable. It may seem like we'll never find a solution to them.
But our past is littered with problem after problem that seemed just as impossible to solve at the time. Yet each one eventually was. Here are some examples:
During the cold war, communism and the fear of nuclear annihilation was a constant threat. But now that the cold war is over, that threat has vanished.
When I was young, contracting HIV/AIDS was a death sentence. Today, because of new medicine, people can live full lives with the disease.
People talk about war a lot, but what about the progress for peace? The conflict in Northern Ireland lasted for 30 years until a resolution was finally found. There's astounding progress in peace talks happening in Colombia right now that is ending a 50 year old conflict there.
All problems have solutions. Just because something seems difficult and insurmountable today doesn't mean it will never be solved. There's always something around the corner coming to fix even the biggest of problems.
The world isn't a perfect place. Stupid, terrible people will continue to do stupid, terrible things. Problems will linger because others don't have the courage or fortitude to do what's right.
But there are far more people who are working to make this world a better place. Remember – we're talking about a world community that eradicated smallpox from the earth and found peace in Europe shortly after two world wars decimated the populations.
There will always be things going on in the news to make you think the world is getting worse. A war might break out or a new potential disease is making headlines.
But for every war that breaks out, two stop. For every disease that comes around, we discover new treatments for others.
That's progress. Just make sure that when you see the one step backwards, you don't miss the two we took forward.
photo credit: Bethan