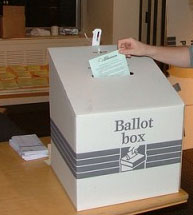 Most people would say you need lots of money and name recognition to successfully be elected to public office.  They are right and wrong.  However, if you use this method, you are guaranteed to win an election. Before I tell you the surefire way to get elected, I want to tell you the limitations this method has.  Firstly, this doesn't work for federal positions.  So if you want to be President, a Congressman or Chief Justice, this won't work.  Secondly, this won't work for some local positions like mayor or state senator.
I was looking around the Hennepin County, MN election website when I noticed that in one year an elected office, Soil and Water Conservation District Supervisor, was won completely by write-in votes.  No one had run for it!  I thought perhaps it could just be a weird fluke.  I did some additional research and I found there was a vacant slot coming up in the next election.  I started to wonder how often public offices come and go where no one runs.
I decided to check out other places.  Franklin County in Ohio had six positions empty in their last election including Auditor and a Member of the Board of Public Affairs in Urbancrest.  In Johnson County, Kansas there were two elected positions open in 2007.  It turns out public offices no one runs for happen all the time.
Here's how to get elected.
1.    Find your county's election center on the internet.
Just type in your county's name with the search word "election".  It will be one of the first things that comes up.  It might take a few clicks, but you'll eventually find it.  Then you need to find any positions coming up that no one is running for.
2.     Make sure you are eligible in your county.
Look for the section that says, "filing for office" or "Candidate Filing".  It will come to a page that lists out the steps to get your name on the ballot.  You'll need to fill out a form.  The requirements on the form are really easy to fulfill.  Hennepin County requires that you are over 21 years old, are eligible to vote and are not filing for other offices there.  You also have to be a resident for at least 30 days.  Once again, this should be very easy to do.  Make sure that you are filing within the timeframe specified.
3.    Filing Fee
After you submit your form, you need to pay your filing fee.  They range up to $500, but those are for offices that you won't be going for so you'll actually end up paying around $20-$50 and perhaps even as low as $2.
4.    Nominating Petition
Ok, this requires a little work.  You're going to need some signatures to get on the ballot.  This should be easy though.  First, have everyone you know sign the sheet.  Then just go to a sporting event and ask people to sign for it, go door to door or go to the mall.  If you are persistent you will get them.
5.    Sit back and relax
That's the end of the process.  Once you get your name on the ballot, it is just a matter of waiting for the election results.  If you did this right, you'll win office easily.  No campaigning, no other money being required and no staff to oversee.  People will vote for you just because your name is there.
Once the election is over, you'll be able to tell people how you won and with how many votes you won.  This is something I would only recommend for people who really have a desire to serve the public. 
I don't recommend you do this just because you can since there will be actual work involved once you win.  Plus many of the positions this works for are unpaid positions.  However, if this is something you want to do you could use it as a spring board to other political positions.  Even if you don't continue on with politics, you could always put it on your resume.  I'm sure it will look really good to employers that you once held a public office.  If anything, it will make a great story.