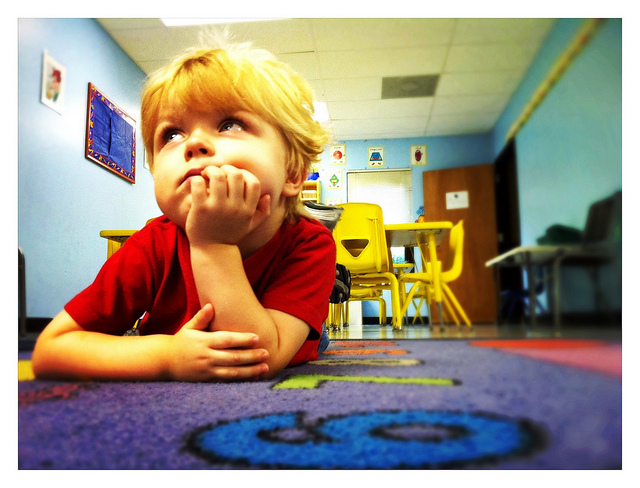 "There is no failure except in no longer trying." – Elbert Hubbard
I've accomplished many big goals over the past few years.
Live overseas?  Did it.
Graduate with a master's degree?  I crossed that off recently too.
When I set my mind to a goal, I put in a lot of time and effort to finish it.  Even if goals take a lot of hard work, I know that with patience and perseverance, I can achieve them.
But still, I would be lying if I said I never consider giving up.
That goes for everything I've done.  There hasn't been any big goal that I've set out to accomplish that I never felt like walking away from.
Whenever I set out on a big goal, I know that I'll eventually get that gnawing voice in my head saying things like:
"You're not good enough to do this."
"It won't work out the way you planned."
These negative thoughts eat at the back of my mind like parasites.  Whether from fear or self-doubt, they pop up to derail my plans.
But I don't let them.
I know that these thoughts are a normal part of the process.  They're just another obstacle you have to overcome to get where you want to go.  And if you know how to handle them properly, they'll never hold you back.
Whenever I feel like giving up, I first ask myself one simple question:
Is this goal something I still want or has something changed?
Perhaps you feel like giving up simply because you no longer want what you're working towards.
Maybe you feel like giving up because your priorities have changed.  It's possible to set out on a goal, but change over time.  Perhaps you're at a stage in life where you no longer find this goal important to accomplish.
If that's the case, your feelings are there because you no longer value the end goal.  In which case, you shouldn't feel bad about quitting.  There's no point in chasing something you don't truly want.
If You Still Want the Goal
If you still want to keep going, but you're feeling like giving up, it means that you need to reconnect with what you're pursuing.
When you're working hard to reach something, your motivation and inspiration for doing it can get lost among the daily effort.  We start to focus too much on what we need to do and less on why we need to do it.
Here are four ways to get back on track:
1. Revisit your motivation
Remind yourself why you wanted to pursue it.  What was the reason you started out?
Think back to what inspired you.  Was it a book, a person or a story?
Take some time to reconnect with that inspiration.
Reconnect with everything that made you excited about it.  Most of the time, what's missing is that spark – the electric excitement of what's possible.
There's a purpose behind your actions and you just need to re-discover what it was.  If you can remind yourself what made you begin in the first place, you can give yourself a boost to keep going now.
2. Focus less on the end and more on how far you've come
Sometimes we focus so much on the end goal, that we forget to realize just how far we've actually gone.  If all you see is how far you still need to go, you'll only discourage yourself and become frustrated.
Instead, take a moment to see where you've been.  How much have you done to get to the point you're at?
Think of all the hard work you've done.  Think of all the progress you've made and how much you've actually done.  You've done a lot more than you're giving yourself credit.
When you take a moment to shift your focus from the end to the beginning, you'll really start to feel good about what you've accomplished rather than bad about what you still have ahead of you.
3. Talk to someone
Feeling like giving up can be an emotional experience.  When you get that feeling, your mind is filled with emotions like fear, doubt, worry and frustration.  It can be a difficult time.
Sometimes you just need an outlet.  Just having someone to share your thoughts with can get some of those thoughts out of your head.
Feelings can carry a weight to them.  When you bottle them up in your head they just weigh you down.  Talking them through with another person can help you release that weight off your mind.
Plus, it's good to have someone who can put things into perspective.  They'll remind you why you want this goal and everything you've already done to achieve it.
Having someone to cheer you up at the right moment can help you get out of your slump and back on track.
4. Fall in love with your challenges
Big goals take time and effort.  You can't expect things to fall into place right away.
I've learned that big accomplishments rarely work as a straight line from a to b.  It's a zigzagged course taking you all over the alphabet from a to z.
You'll face unexpected challenges.  You'll face difficulties you never anticipated.  It's never as straightforward as we like and that can be frustrating.
But rather than letting it bring you down, see the positives of the situation rather than the negatives.  The problem can be that you're seeing your challenges in a negative light.
Don't see them as negative things you're forced to overcome.  See them as puzzles to solve.
Think back to a time when you were challenged.  It can be a time at work or school when you were faced with a problem and you overcame it.  Remind yourself how good it felt when you finally solved it.
Your challenges can be solved too.  When you remind yourself of that good feeling you had when you finally solved it, you can give you the motivation to recapture it.
photo credit: Jason Parks