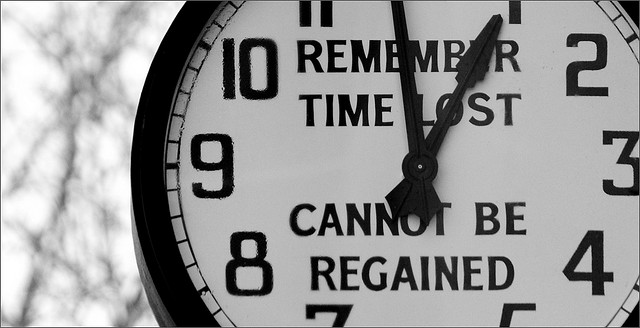 We've all heard that life is short.  There's just not enough time to do everything that we'd like to do.
I know I still have a lot of things I still want to accomplish before I die.  It sometimes seems never-ending.
But the problem isn't that life is too short.  It's usually because we're not using the time we're given effectively.
No matter how you look at it, there are only 24 hours in a day.  We have to fill that time doing something.  Instead of wasting that time, we should be living it.

Here are some ways to make sure you're using your time living life to the fullest.
1. Question how you're spending your time
Steve Jobs once said that he asked one question to himself every single day.
"If today was the last day of my life, would I be happy with what I'm about to do today?"
If the answer was no for too many days in a row, he knew he needed to make a change.
I've adopted this habit.  I've asked myself that very question every morning for months.  It causes you to search your thoughts and feelings in ways you might not like.
The great thing about this is that you have to acknowledge when you've said no for too long.  It's easy to shrug each day off if you never ask the question.  But when you've said no for a long time, it becomes harder to ignore.
2. Quit your awful job
A typical eight hour job takes up 1/3 of your daily life.  If you're spending all that time at a job you hate, you're wasting your life.
I know it's hard to find a job you're passionate about and we all have to earn money somehow.  However if you're going to a job you absolutely can't stand, you need to make a change.
There are also those people who put in 60-70 hour work weeks.  If you love your job it can be worthwhile, but you have to acknowledge that this is a lot of your free time.  It's not leaving you time to do much of anything else.
No matter how much you love your job, you should make time for other things.  Life has a lot of great things to offer: places to explore, people to meet and works of art to enjoy.  If you're spending all your time in the office, you'll miss out on a lot of it.
3. Cut out your negative influences
Are there certain people in your life that drain your energy, fill you with doubt or generally bring you down?  These are your negative influences.
Some people just have a bad view of the world.  To them, nothing good will happen so why even try.  No matter what you do, you'll never change the negative circumstances.
They'll try to get you to see the world just like them.  And when you do, you'll start to wonder why you bother doing anything.
The next thing you know, you're spending all your time in a bad mood and telling yourself why you can't do something.
Sometimes it's best to just cut those negative influences out so you can get the most out of your life.
4. Look at the legacy you're creating
One day in the distant future, you're going to wake up on your 80th birthday.  As you look back on the life you've lived are you going to like what you see?
That's the question I ask myself all the time.  Nothing motivates me more than the thought that I will wish I had done something, but never did.
Every day we're creating our legacy – the things we'll remember.  What we have to ask ourselves is if what we're creating is something we'll be proud of.  Will we wish we had done things differently or taken some chances?
It's better to ask those questions now instead of years in the future.
5. Start something big
We all have a big goal we'd like to do "someday".  Why not make someday happen today?
The more you push it off, the more likely you're making it that it will never happen.
Waiting for the right time to do it is time that's wasted; perfect times rarely happen so you might as well do it while you can.
I've spent a lot of time around older people.  If there is a common regret they have it is this: they wish they had done that big goal when they were younger.  They simply put it off until it was too late.  Don't let this happen to you.
6. Analyze and reorganize your downtime
What exactly are you doing with your free time?  Have you given it much thought?
It's surprising how much of our day we waste simply because we don't know how we're spending that time.
I remember when I first started watching my free time; I estimated that I watched only a couple of hours of TV every week.  However, when I actually started tracking it, I realized it was closer to 10-15 hours.
That's a huge difference!
It's deceptive because you only do a little at a time.  You forget about some of them and it makes you think you're doing much less than you actually are.
Keep a rough estimate of how you spend your free time and see if there is a time-wasting activity that takes up a lot of your free time.
Then make a conscious effort to do less of it by replacing it with a better activity.  Next time you start doing it, you'll remember to stop doing it and replace it with the other thing.
7. Create an action plan for the next few years
Every couple of years, I make a plan for where I want my life to head.  It's just a set of about 10-12 things that I want to see happen soon.
It's not exactly like a bucket list although there are some bucket list elements to it.
A bucket list would be a list of something I want to accomplish over my entire life.  This list is something I want to accomplish within the next few years.
The items on the list might be something simple like some budget/financial goal or donating some of my stuff to de-clutter my apartment.  They might be bigger like quitting a job or a big travel goal.
Whatever it is, I try to make them all happen.  That way I feel like life is on the right track and I'm always doing things I want to be doing.
photo credit: Matt Gibson