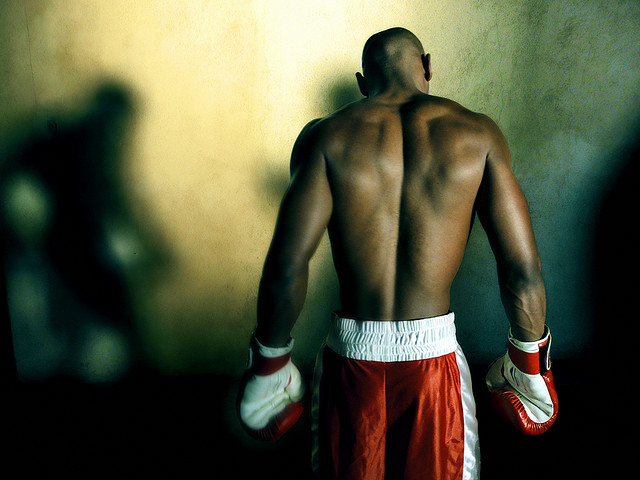 Several years ago I went to a comedy show.  A local amateur comedian got onstage in front of about 400 people to perform his stand-up routine.
About half way through the show, someone in the audience yelled out, "You suck!"
Without hesitation, he laughed it off and told a joke at the heckler's expense.  I don't remember exactly what he said, but it was hilarious.
Somehow this comedian had developed the strength and composure to deliver jokes successfully to hundreds of people.
Not only that, but he had the confidence and focus to do it while hecklers tried to undermine his performance.
This is what psychologists call mental toughness.
Mental toughness is when you:
Cope well with demands and pain to reach objectives.
Have so much confidence that nothing affects you.
Focus enough to consistently work on your goals.
The key component of mental toughness is learning how to condition your mind to think confidently and be able to overcome frustration and negative self-talk.  It's when nothing can mentally keep you from reaching your goal.

Building a Tough Mind – One Neuron At a Time
Mental toughness is about how you handle your confidence and determination when things aren't going your way.
Anyone can handle it when times are good; it's easy to keep going and stay positive.  But when things go bad, you'll start to see those same people walk away.
What separates winners from losers is how they handle themselves in the worst of times.
Ask yourself:
How tough will you be when things aren't going your way?
When things go wrong, will you have the mental strength to keep on track?
If you're mentally tough, you'll keep your composure under heavy stress.  You'll be able to go out of your comfort zone like it was nothing.
So how do you build mental toughness?
You have to be willing to go through these things:
Willingness to look stupid
Most people stay in their comfort zones because they're afraid that they'll look like they don't know what they're doing or do the wrong thing.
Those who get the furthest in life are the ones who put themselves out there.  They're able to go in front of a large audience and do what they need to do and not care what people think.
Yes, that means they'll do stupid things occasionally, but they're fine with that.  They're happy for the valuable life experience they get out of those attempts.
Be more willing to laugh at your dumb moves than everyone else.  Do that and you remove their power to hold you back.
Willingness to be frustrated
Frustration is…well, frustrating.  It's not something people go out into the world wishing they could get more of, but it's a necessary part of development.
At any point, you could get smacked down with a setback.  Someone could try and put you down and tell you that you're no good.
Here's the thing: your greatest point of growth is at the same point of the greatest amount of frustration you're willing to accept.
When Arnold Schwarzenegger goes to the gym, does he do the bare minimum?  No, he picks up the heaviest weights everyone else avoids and does as many sets as he can.
He doesn't take the easy route because he knows that he won't get any results that way.
The same goes for any other field.  If you're not pushing yourself to the point of frustration, you probably aren't growing much.
Willingness to be consistent despite failure
Take a look at this quote:
"I've missed more than 9000 shots in my career.  I've lost almost 300 games.  26 times, I've been trusted to take the game winning shot and missed.  I've failed over and over and over again in my life.  And that is why I succeed." – Michael Jordan
Despite failure, despite all the losses and misses, Michael Jordan kept going and going.  He was never afraid to take the lead and miss an important shot.
It's about consistency.  Mental toughness means working on your goals regularly – no matter what happens.
Mentally tough writers write every day.  Mentally tough athletes don't miss workouts.
When you consistently push yourself, you'll be in an unfamiliar spot – you're doing something you don't know how to do.  Mistakes and failures become more likely.
Failure sucks – no one likes it and you should never set out to purposely fail.
But failure is a sign that you're doing something right.  It should be seen as a good thing, not one that dents your confidence.
In fact, it should be the other way around.  When you push yourself to do something new and fail, you should see it as a victory – you're developing mental toughness.
Most Importantly: Mental Toughness Takes Practice
Mental toughness takes time.  You have to consistently practice a tough mindset to develop it.
When I was younger, I had very little mental toughness.  When things got difficult, I would let them affect me and discourage me.  I quit a lot more often than I should have.
Now that I'm older, I've learned to trust myself and my abilities.  I've accepted that things won't always go my way and that how I react is more important that what I'm reacting to.
I spent a lot of time developing a strong, focused mental attitude.
Before I got married, I used to go out to bars to meet women.  By the end of the night, I'd usually be chatting with a girl, getting a number or making plans to meet up with her and friends after bar closing.
One night I approached a girl and started a conversation.  Looking me up and down, she said in a really mean voice, "Why the hell are you talking to me?  I don't find you the least bit interesting or attractive."
Wow.
I had reached my moment.  Just like the amateur comedian, someone was trying to knock me down.
Weirdly enough, I laughed a little when she said it.
Instead of letting it bother me, I moved on and started a conversation elsewhere.
When you have enough mental toughness, nothing can shake you.
I'll leave you with a quote from Sylvestor Stallone from one of his Rocky movies:
"It ain't how hard you hit…It's how hard you can get hit and keep moving forward; how much you can take and keep moving forward.  That's how winning is done!"
photo credit: ElMarto