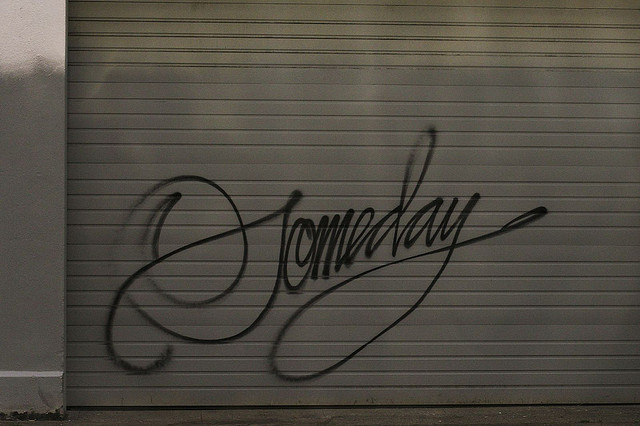 Do you have a big goal you want to do "someday"? Whether you say you'll do it tomorrow, next month, next year or just plain whenever, it's that thing you just seem to keep putting off into the future.
I think everyone can relate to this. We all have that goal we want to do, but haven't gotten around to doing it yet. It just keeps getting pushed off until the timing is right. But what if "someday" never happens?

Don't Trust the Future
I'm sure you're familiar with the Latin phrase carpe diem. But this is a short version of a much longer phrase. The entire saying actually goes carpe diem, quam minimum credula postero. Yeah, I can see why people shortened it.
The longer version roughly translates to "seize the day, putting as little trust as possible in the future."
I like the longer version more. It puts more emphasis on the importance of the immediate moment.
The future is notoriously difficult to predict. While you can probably figure out what is going to happen tomorrow, the further out in time you go, the less certain everything becomes. It can be said that the only thing certain about the future is that it is uncertain.
No matter how hard you try and predict the future, something will always come out of nowhere to defy your expectations. Whatever plans you're making might have to change in response. In other words, pushing plans you could start today continually into the future is just bad planning.
The Problem With Waiting
Many people push things into the future because they're waiting for the right moment. It's when the timing and conditions to start a project align into a perfect scenario.
The thinking goes that in the near future there will be a right time to start a business, travel or change careers.
For example, someone who wants to start a new business might wait until their finances are under control, their home life is stable, the economy is back on track and a long list of other conditions.
Waiting for all these things to align is unrealistic.
The chances of all these areas combining to create the perfect environment are slim. Even if some areas do improve, others might get worse. And while you're waiting for everything to be perfect, you'll just keep pushing off what you want to do endlessly into the future and never actually begin.
Trust the Present
It's almost always better to do what you want as soon as possible. Make your plans happen now instead of leaving it to an uncertain future.
Sometimes it seems as if we have all the time in the world, but we really don't. If you keep pushing everything you want to do off, you might not get to do anything at all.
I know that sometimes putting things off into the future can't be helped. There really can be good reasons to hold off on doing things you want to do.
But whenever you can, it's much better to put your faith in the present. It's the only time you have so take advantage of it while you can.
Even if conditions don't seem all that great now, there is usually a way to work around the disadvantages.
Let's use the previous example of opening a new business. Most people would think starting one during a recession is a bad idea. After all, that's when the economy is under-performing and people don't have as much money to spend.
It would be crazy to open a new business in this kind of environment, right?
There are hundreds of examples of people opening successful businesses in worse economic conditions. HP, Revlon, Polaroid and Pepperidge Farm were all founded in the 1930s during the Great Depression.
These are companies that are still around today despite starting off in such terrible positions. Surely you can start what you want despite whatever environment you're in.
Do It Now While You Still Can
You need to take advantage of the conditions you have now instead of putting something off until "someday". I hear too many people talking about plans they really want to do, but keep putting them off into the future over and over again.
It's time to take those future goals and bring them into the present. Get rid of the idea of doing something "someday". All the time you ever really have happens in the present. And there really is never a better time than the present to make your plans a reality.
photo credit: Zervas