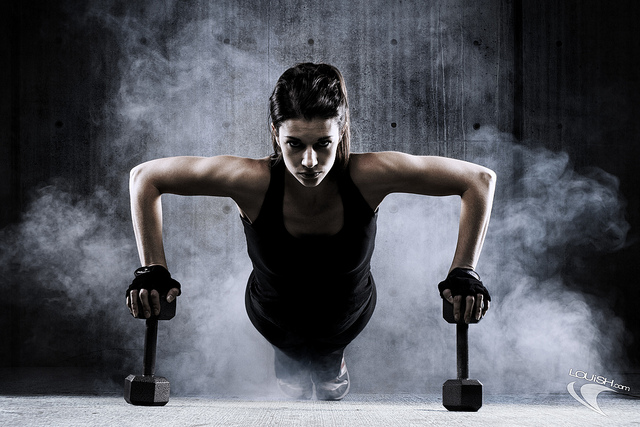 Have you ever asked one of those big weightlifters in the gym for advice on how to get into shape? I have. They often go on long tangents describing specific workouts they do and talk on and on about what foods to eat and supplements to take. It's all extremely detailed and unwieldy information.
It doesn't need to be that complex.  Unless you're a fitness fanatic, you don't need to sort through all this information. Getting into shape doesn't require you to know the latest supplements or the difference between a sumo and Romanian dead-lift.
I like to keep things simple. My rules for getting into great shape are about as stripped down and basic as you can get. I'm very disciplined at what I do, but I don't try to over-complicate it.
My results speak for themselves. I'm only 5'11", but I weigh almost 200 pounds with barely any fat on me (no six pack, but I have a four pack going on) – and I only work out about two to three hours a week.
What I do is simple.  So simple, in fact, that there are only three "must follow" rules.  These are what need to be done before you begin thinking about the more complex parts of working out.
1. Set three specific times a week for the gym and consistently go
This is the most important rule of the three I list here. You must do this before seeing any results whatsoever.  There's no way to get around it.
Feel tired? Go anyway. Not enough time? Make time.
Spread the three days throughout the week to give yourself some time for rest in between each session.  I tend to spend each day working out a particular area of my body (back, legs and upper body), but you might decide to do it differently.
And don't just randomly set times, be specific about when to go and stick to it.  You should get to a point when a specific time such as Monday at 5PM="gym time".
By setting specific days and times, you'll make it a part of your routine.  The trick is to get to a point when it becomes something you automatically do – not something you have to keep reminding yourself about. Keep in mind that it doesn't need to take much time, I usually workout only 30-45 minutes a session.
If you build momentum and consistently fit it in, you'll find yourself going more and more. The more you go, the more likely you are to go again.
2. Work your butt off
A lot of people go into specific details on how much weight to lift or how many reps to do. Some guys keep detailed journals about their workouts.
Honestly, I don't care about any of that.
All you should be concerned about is that you're pushing yourself. Just work out and lift weights until you can't do any more. That might mean working out for an hour or maybe only 30 minutes.  Just go until your muscles are tired.
(Sidenote: women should lift weights too. After my wife started lifting weights, she got into better shape than she's ever been – and she didn't get too big or have huge muscles like a guy or anything like that. If you're still not convinced, read this.)
The trouble with most people is their focus on lifting heavier weights.  Instead of doing that, I look into what will get me into better shape.  If I can do that with less weight, I will.  But usually I just do a mix of heavier weights with fewer reps and vice versa until I give my muscles a good workout.
So how do you know if you're working your butt off? Here are two signs you're doing it right.
The first is this: immediately after your workout, you should feel tired and slightly sleepy. If you're yawning, that's a good sign.
The second is that your muscles should be sore the next day or two. If they aren't sore, you're not doing enough. Do more.
3. Make meals at home and eat out only once a week (preferably less)
People get some hardcore advice on the subject of food. They're told that eating healthy means consuming only raw vegetables, fruits, whole grains and avoiding bad fats while eating good fats and when to eat simple or complex carbohydrates.
Making it this complex is confusing. It seems too strict for anyone other than the most devoted health nuts.
Here's my simpler solution: eat out only once a week.
That includes fast food, restaurants and anything related to eating out. That goes for breakfast, lunch and dinner.
You hear a lot about how bad fast food is for you, but restaurant meals can be just as bad – or even worse. Even the so call "health options" in restaurants can be bad for you.
According to a study from an American Cancer Society researcher, people who eat out (both restaurants and fast food) consume 200 extra calories than eating at home and take in more saturated fat, sugar and salt. Foods in restaurants are more energy-dense and the portions are larger which means people eat more than they would otherwise.
Cook more food at home and make your own meals and you'll eat much healthier. Even if they're boxed meals at first.
And it doesn't need to take much time either. My wife and I cook at home all the time and neither of us even like doing it. But we've found a wide variety of extremely simple and quick meals that take ten minutes or less.
One meal we occasionally do takes less than five. (microwave both a bag of mixed frozen vegetables and a can of pork and beans separately. Mix together and it's surprisingly good.)
Cooking at home might seem time-consuming, but it actually saves time for us overall. Making these quick meals takes a lot less time than going out somewhere, ordering food and waiting to get it.
At first, eating at home so frequently can seem like a pain, but it gets much easier as you do it. Just that switch alone will help you eat healthier.
Photo credit: Louish Pixel