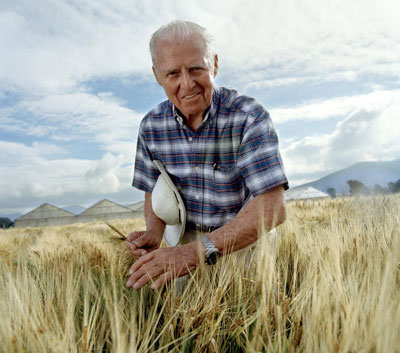 Chances are that you're not familiar with Norman Borlaug. He doesn't have the household name of a famous movie star or pop singer, but, by the time he died in 2009, he was credited with saving the lives of over one billion people.
It all started so simply. In 1944 he moved to Mexico to work on a joint U.S.-Mexico agricultural program. A plant disease called "stem rust" was ravaging wheat fields; food was in short supply and the country was one crisis away from mass starvation.
Working tirelessly on the problem for ten years, he finally found a wheat strain that both resisted the disease and increased yields. His efforts dramatically increased wheat production, protecting millions of people from slowly dying of hunger.
But Norman Borlaug wasn't finished.
He took his work to the Indian subcontinent where widespread famine was becoming a massive problem. In 1943 alone, the worst year, famine killed up to 4 million people in Bengal province.
But after just five years, he nearly doubled wheat yields in Pakistan and India, building their self-sufficiency in food. Later, Dr. Borlaug applied this same knowledge to rice in China and eventually a variety of crops across Africa.
For his efforts to end starvation, eliminate food insecurity and bring about world peace, Norman Borlaug was awarded the Nobel Peace Prize in 1970. He's been widely credited with saving more lives than any other person who has ever lived.
His story is a powerful reminder of the positive change one person can make; it never ceases to amaze and motivate me to become a better person. By observing his life and achievements, I've discovered many invaluable lessons from this truly inspiring man.
1. Just because a problem or goal doesn't seem to have a solution, doesn't mean there isn't one
Initially, Dr. Borlaug's problem was clear: more food needed to be grown to prevent mass starvation. The solution, however, was far from obvious, requiring ten years and over 6000 attempts to finally resolve the major issues.
Imagine working for that length of time, never knowing when (or if) you'll reach the finish line. Day after day, you keep persevering, relying on belief and tenacity to push you forward.
Intractable problems and far-off goals are often ignored simply because there doesn't seem to be a solution or end in sight. People tend to work on things they KNOW will work out.
But an unwillingness to pursue difficult goals and problems will only limit your true potential. It's important to have faith in yourself that somehow you'll find a way to the end. If Dr. Borlaug has shown anything, it's that tenacity, effort and self-trust can work wonders..
2. Impossible is a only a problem for people with little imagination
What Dr. Borlaug did wasn't just incredible, in some cases what he did was considered impossible. This is especially true of his farming strategy called "shuttle breeding".
It's a process whereby farmers would shuttle plants between themselves around the country to take advantage of the changing growing season. Instead of growing just one crop a year, every farmer could grow two.
When he proposed this idea to his colleagues, they shot it down as unrealistic; it defied the conventional understanding of agronomy. But he persevered anyway and pushed on, alone if necessary. Eventually he implemented a successful pilot program which confounded and astonished many of his contemporaries.
Most of us tend to see "impossible" as a fixed concept. But it actually changes and varies based upon new information and ways of thinking. Dr. Borlaug's ideas contradicted the general principles of agronomy only because he thought of the problem in a new way that hadn't been considered before.
"Impossible" is just another obstacle on the road to success. Those who do great things realize that "impossible" is often just an excuse for those unwilling to take on new challenges. With enough imagination and creativity, more and more of what we think is impossible will eventually be revealed for what it is: an illusion.
3. Closed opportunities can open up if you just keep persevering
"No" was a word Norman Borlaug heard most of his life. He heard it while proposing his idea of "seed shuttling". He heard it when he wanted to expand his wheat program to all of Mexico. India and Pakistan, suspicious of his motivation, said no to him for years before finally letting him in.
Through it all, Dr. Borlaug never treated "no" as a final answer. Instead he looked at it as another challenge or obstacle to overcome. To him, "no" meant "not yet". He knew that with enough persistence and effort, he would eventually succeed.
Here's the lesson we can all learn: don't treat no as a final answer. Situations change, people change, policies change – everything changes with time. Dedication and persistence to an idea or goal is what separates the successful from others. If it's important enough for you, keep pushing on – because you never know when a "no" can change into a "yes" later on.
4. Greatness can come from anywhere and anyone
Who would have guessed that the solution to one of the world's major problems would primarily come from one man? Out of the billions of people on the planet, one person rose to meet this seemingly insurmountable challenge – and won.
If his story proves anything, it's that one person can make a powerful difference and do amazing things. With enough tenacity, drive and focus, we can all rise above our normal capabilities and achieve something astounding.
Don't hold yourself back for any reason. Rather than settling for mediocrity and giving in to the idea of limitation, we should all strive for something greater. With focused energy and enough courage, fortitude and discipline, there's no telling what you can accomplish.
5. One good action can have a million positive outcomes
When you consider how vast and complicated the world is, one good deed doesn't seem to mean much.
But Norman Borlaug's life epitomizes the concept of the "butterfly effect". Just like the flapping of a butterfly's wings can subtly change conditions until they become something much larger like a hurricane, our actions can have a similar effect.
Even if we fail to immediately perceive the effects of our behavior, our actions can subtly change our environment leading to bigger and bigger changes around us. One random act of kindness can make another person feel so good that they do one in turn. And so on and so on until your one act of kindness has impacted several lives around you.
Now imagine how many people's lives you would impact with a lifetime of good deeds.
Dr. Borlaug's beginnings were humble. At first, he was so determined to help that he even strapped on a plough in a field to work amongst Mexican farmers. But slowly, after a lifetime working for the good of others, he saved over one billion lives and made a positive difference in millions of others.
It didn't happen overnight. Each good deed accumulated throughout the entire course of his life until one day he positively impacted the lives of about one in seven people around the planet.
This should give us pause to wonder: What good actions are you putting out into the world?
6. Selflessly working for others can lead you to an amazing life
Dr. Borlaug is only one of seven people to win the Nobel Peace Prize, the Presidential Medal of Freedom and Congressional Gold Medal. The others are Dr. Martin Luther King Jr., Elie Wiesel, Nelson Mandela, Aung San Suu Kyi, Mother Teresa and (most recently) Muhammad Yunus.
Out of the entire list, Dr. Borlaug is arguably the least well-known. And that's probably not surprising considering he didn't work for fame or money. He simply saw people suffering and did what he felt was necessary to stop it.
It's interesting to note that selflessly working for the good of others is a common theme amongst all seven people. Every one in that group were visionaries who dreamed of a better world and worked tirelessly to make it happen.
A noble, fulfilling life is one in which we give selflessly to others. We should all be looking for ways to make the world a better place – not for our own enrichment, but for the enrichment of others.
7. Remarkable actions bring out critics, doubters and liars every step of the way
Dr. Borlaug often considered his biggest obstacle to be, in his own words, "the constant pessimism and scare-mongering of skeptics."
It wasn't the endless research, the harsh living conditions or funding difficulties, but the endless stream of critics and naysayers who challenged him at every step.
Many critics claimed his work was futile; starvation was inevitable. Others dubiously asserted that poor rural farmers preferred their low living standards. Some of his harshest opponents even went as far as to sabotage and spread misinformation about his work.
As dark as it may seem, his experience says a lot about human nature. Our choices – whether to tackle challenging problems or make radical changes – is bound to bring out critics.
This will be true of anything remarkable you decide to accomplish. You'll hear from more critics than supporters. Those who disagree most will speak loudest.
Their opposition will be the hardest obstacle. But if Norman Borlaug taught anything, it's that those who succeed find a way to keep moving forward despite the negativity and pessimism. Sometimes the best way to silence your critics is through success.