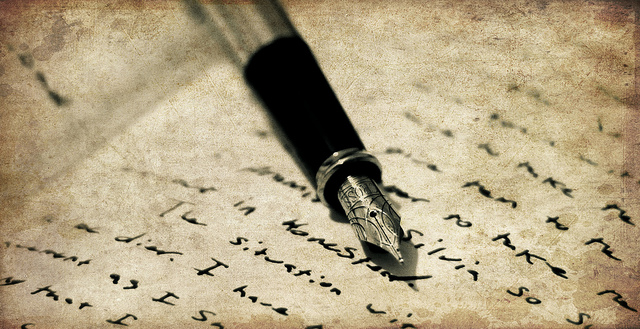 A few years ago I was in a class where the teacher asked everyone to finish this sentence: "life is a…". Apparently, how you finish the sentence reveals how you see life, your place in it and your overall outlook. I don't know if that's entirely true, but I can tell you mine seemed pretty accurate. I put down that life is a story.
Even after all these years, I'd still say that life is a story. But not the kind where we're just passive characters without a say in the plot unfolding around us. Everyone writes their own story. All you need to do is decide how you want it to develop; it's up to you how awesome everything turns out.

Your Life is a Story
Imagine you're at a cocktail party. You're standing around a group of people telling anecdotes. You have a few good interesting stories to tell so you start with those. But how long can you go before you start running out?
If life is a story, what does that say for someone who doesn't have many interesting stories to share?
This is the kind of question that has pushed me to create as many interesting memories as I can for my own life. So I'm always on the lookout for new experiences and new things to try. That way I can constantly be creating new exciting and interesting memories.
It's interesting when I'm asked things like:
"Why did you travel to Nicaragua?"
"Why did you start blogging?"
"What made you decide to swim with sharks?"
They aren't particularly hard questions for me to answer since they were all things I had genuine interest in doing for one reason or another. Yet one of the biggest underlying drives for me to do all these activities was so I'd make good memories. I wanted to make interesting life stories.
Of course, making good memories wasn't the sole reason to do these things, but it helped me make choices about what to do. Whenever I'm faced with the decision to take the safer, less adventurous route, I think of all the memories and life stories I'll miss out on and usually take the more adventurous one instead.
That's what thinking of your life as a story can do – it's a source of motivation to seek out interesting experiences so you can create awesome memories.
Life is a Journey
Seeing life as a story gives you a much different outlook on life from other people. A lot of people completely fixate on end goals as if that is all that mattered. While I think setting and reaching goals is important, I'm really not all that outcome-dependent.
I can honestly say that the great experiences you have along the way are just as important as achieving things and realizing end goals. I'm totally one of those people who would say the journey is more important than the destination.
In fact I'd say I'm more story-dependent. I'm more interested in what will give me an interesting memory to tell later in life. This change of focus makes me:
• More willing to try new experiences
• Not as concerned about looking stupid
• Concerned more about the experience than the end-goal
• Less inhibited
• Adventurous and more ready to take risks
When you see the value of creating stories, you get a less restrained outlook on life. I'm more willing to try new experiences simply because I don't care as much about how it ends. I'm not as concerned about failing or looking stupid and I'm more interested in the experience itself.
In fact, I have a lot of stories about stupid things I've done. But you know what? – I think most of them are great. Often they come from when I tried something new or took a risk on something that didn't quite work out.
For instance, the first time I tried surfing, I think I fell off the board more often than I ever really rode a wave. It was bad. And I don't think I have to go into detail of all the times when I was single and tried to start conversations with women only for it to end awkwardly.
But I have the ability to look back on some of the stupid things I've done and just laugh.
Plus I made new, fun stories.
Honestly I'd rather try something new and fail instead of sitting in my comfort zone all the time and make my life story completely dull. Of course, this might mean I make a lot of mistakes.
But it will also mean reaching a lot of success too. Eventually I did get better at that surf board. And I've started dozens of great conversations with women (point of evidence – my wife).
Ultimately, it's your life story you are creating. What do you want it to say? Stop being so concerned about where you're going and just make the journey enjoyable and memorable. Seek out as many crazy and adventurous experiences as you can so that next time you're at a cocktail party, you'll never run out of tales to share.
Do you think of life as a story too?
photo credit: JoelMontes