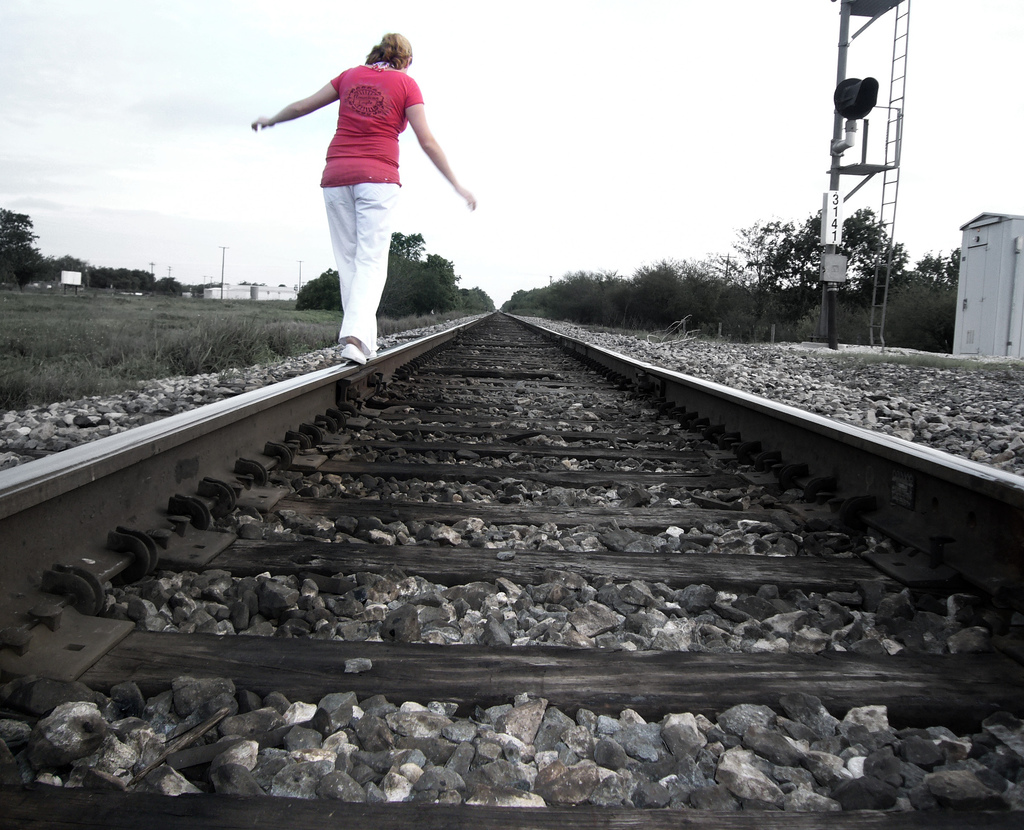 A couple of years ago while traveling through Belize, I had the opportunity to take a boat out into the nearby coral reef and swim in an area full of sharks and stingrays. Before I jumped into the water, I thought about how crazy it was to put myself into that situation. Most people would probably think it was too dangerous.
But I love experiences like this. They seem dangerous and stupid at first, but afterwards you look back and wonder why you thought that way to begin with. In fact, I'd say there's actually a lot you can learn by doing dangerous, stupid and crazy things.

Playing it Safe
First let's take a look at the typical way people think about doing dangerous and stupid things. As you can imagine, most people would say that both of them should be avoided as much as possible. After all who would willingly put themselves into dangerous situations where you can get injured? And doing stupid things can lead to bad decisions and poor judgment.
I'm not going to say either argument is wrong because at their basic level they're right. Putting yourself needlessly into hazardous situations is reckless and isn't something I recommend. Eventually something bad will happen to you.
What I am going to argue is how people's perceptions of what is dangerous and stupid can be wrong. Many things that seem hazardous or dumb might not actually be so. It's just like how people think swimming with sharks and stingrays is dangerous even though it isn't. Perception isn't necessarily reality.
Unless you challenge that perception, you might convince yourself that something is dumb or unsafe. But what if it isn't like that at all?
On Danger and Stupidity
One thing I've learned over the past several years of traveling is that many things considered dangerous aren't really dangerous at all. When I took my first trip through Southeast Asia many friends were worried about my safety. Someone who obviously didn't know much about the world even alluded to Vietnam as being akin to a war zone.
Their warnings and cautions were all different, but the common underlying message was that the world is very unsafe and I shouldn't go. I get similar reactions when I tell people about some of the other crazy things I've done. It all surprises me since I didn't feel as if I was in any danger while doing them.
It's a similar situation for doing stupid things. A few years ago I had a job I really disliked, but I was unwilling to quit. Because the job market was bad and I had a good steady income, I figured I'd be an idiot to leave. That reasoning persuaded me to stay in the job far longer than I should have.
When I finally made the decision to quit, I was still uncertain it was the right thing to do. But I knew I'd never leave unless I took the initiative. Contrary to my fears, I found a much better job after a brief spell of unemployment. That stupid decision turned out to be pretty smart after all.
What You Can Learn
So as you can tell, there can be a big difference between perception and reality. That's why I think it's good to do crazy things once in a while so you can challenge that perception. Make sure you're seeing the world as it is not as you think it is. Otherwise your perceptions might make you inadvertently miss opportunities.
If I had stayed home because I thought Southeast Asia was dangerous, I would never have had such amazing experiences. If I had stayed in my job because quitting seemed too stupid, I would have stayed there much too long. Don't let perceptions limit your options.
Of course this doesn't give you a free pass to do anything you want. It's good to challenge your ideas of what is dangerous and stupid, but it's a bad idea altogether to recklessly disregard all warning signs. For example, I don't need to try cocaine or heroin to realize it would be a huge mistake. That's not challenging your perception, that's being irresponsible.
Challenge Yourself to Learn
When you look closer at doing dangerous and stupid things, you'll start to realize that no one completely agrees on where those terms really land. But as you work it out, you'll eventually start to get a good feel of the best place where you draw the line.
As you get into the habit of challenging these perceptions, you'll start to realize just how much of it is simply misplaced perception. Freeing yourself from those limitations will help you see that some things aren't all that bad after all. In fact, I say some crazy things are actually great opportunities in disguise. And that's the biggest lesson of all.
photo credit: Lin Pernille Photography