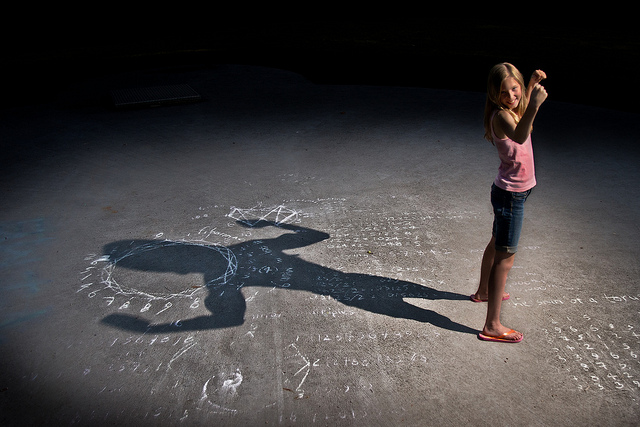 Dating back to 1400 B.C., the Oracle of Delphi was one of the most important places in all of Greece. It was a strange and mystical place. The oracle was said to be connected to Apollo and had the wisdom of the gods.
When a king or nobleman wanted to expand their power, they turned to the Oracle for advice. People as powerful as Alexander the Great to Roman Emperors sought out their guidance. Whole campaigns and strategies were created based upon what the oracle said.
But before these powerful people could meet the oracle, they waited at the entrance. And inscribed in stone, for all to see, were these words:
Know thyself.
No matter how lowly or mighty you were, the first step for all those entering the temple was the same: know thyself.
Today this advice still holds to be true.
If you want to find your power, you need to understand who you are. Before you can be powerful, you have to know how you work, your strengths and inner workings.
Getting To Know Yourself
How well do you really know yourself? Unless you've already given it careful thought, you might not be as aware as you might like to think. Fortunately there is a quick and easy way to find out.
You might be familiar with the concept of an elevator pitch. It's a short summary describing yourself and your strengths to another person. The whole idea is that you should be able to deliver the summary in the short span of an elevator ride which lasts roughly thirty seconds to two minutes.
So let's do it. For the next two minutes, give your pitch. Either say it out loud or think it to yourself, but try to explain who you are, what you're really good at and why. And please, try to stay away from generic statements like "good communication skills".
Ready? Go.
What was the result?
Did you struggle with your strengths or did you know them?
This might not have been too hard for you considering that elevator pitches are commonly taught to job seekers who are instructed to rehearse them. But even if you've never done one before, you still might have had a few things to say.
But you need to know yourself more than this. Your strengths are only the start.
Let's do another elevator pitch, but this time let's take a look at your weaknesses.
Once again, take a minute or two to tell someone about what you're not good at. What could be improved upon? What are you not as good at as you'd like?
Ready? Go.
What was the result this time?
This was probably harder for you. Most people are comfortable focusing on what they're good at, but avoid looking at what they're not. We like to showcase the highlights and brush everything else aside.
However, your weaknesses are just as important as your strengths. While our strengths tend to get us places and help us on our journey, our weaknesses can hold us back. If we don't know them, we might be missing something that is weighing down progress in our lives.
Once you understand them, you have two choices:
1. Let them go. If the weakness isn't a big drag on your ability to be successful, you might not have to do anything at all.
2. Work on them. Turn that weakness into a strength. Or at least modify it so that it won't hold you back anymore.
Know Thy Inner Voice
Of course, there's a lot more to who you are than just your strengths and weaknesses. To really get to know yourself, you still need to look at your inner dialogue.
What's inner dialogue you ask?
This is the "discussion" you have going on in your head.
Let's look at this example:
Let's say someone has hurt you recently or said something you don't like, what do you do?
You re-enact the whole scene in your mind complete with dialogue. You might envision yourself talking angrily. Perhaps you think about what you could have said or what should have happened.
If you talk to yourself harshly or criticize yourself, your inner dialogue can leave you feeling angry, helpless or sad.
My inner dialogue used to do this frequently after parties. I'd re-enact scenes in my head of conversations or situations that went badly, but ignored the ones that went successfully. That gave me a skewed version of events that left me sad and full of doubt.
Your inner dialogue is an activity that goes on whether you like it or not. But it's powerful because it affects our emotions, thoughts and behavior.
This is important: we become the story we tell ourselves. Your inner dialogue can be like affirmations – constantly thinking about the same subject for too long makes you accept these thoughts and words which causes you to act on them.
What's important is that you be consciously aware of them.
When you find the conversation dwelling in useless or negative territory, stop it. Change it to something more productive. If your dialogue is giving you a skewed version of events, try to balance them out.
Unless you get control of your inner dialogue, all those strengths you listed earlier won't make much of a difference.
On to Step Two
Once you've got a handle on your strengths, weaknesses and mental attitude, you're ready for the next step to being powerful: taking action outside yourself.
Where are you going to direct your power? What world do you want to conquer?
If we were standing at the entrance to the oracle of Delphi, this is the time when you would walk in and ask your question which could determine your destiny.
It's up to you to decide. But whatever path you want to take, it will become a lot easier once you take that all-important first step: know thyself.
photo credit: Scott Swigart