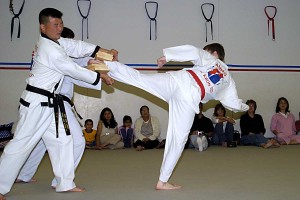 Martial arts are systems of practices and training you use in combat. There are various reasons to study them including fitness, self-defense, character development, mental discipline among others. Here is a list of ten martial arts in no particular order from around the world. Each one lists out who they are suited for. Which one fits your style?
1. Judo (Japan)
Judo was founded by Kano Jigoro, who was bullied relentlessly as a weak, frail child. That led him to create Judo, which means "the gentle way". It teaches students to use an attacker's force against them. The primary focus is on throws that get opponents on the ground. When there, the practitioner (or judoka as they are called) uses the superior position to use submission style attacks such as locks or choke holds.
Who is it for?
Judo is suited for people who want to learn a defensive style. Since it uses an attacker's energy against them judoka don't need to have much strength. It will draw people that like throwing and grappling.
2. Aikido (Japan)
Aikido was created by Morihei Ueshiba in the early 1900s. Like judo, aikido teaches you to use an attacker's energy against them and relies on throws and holding techniques. The main difference with judo is that aikido teaches to protect attackers from harm. Aikido means "the way of harmonious spirit" which fits its Shinto roots. Its spirituality focuses on centering the mind and body together. Breathing techniques are also important.
Who is it for?
Aikido is a less combative than many other martial arts and competition is discouraged. It appeals to women since it doesn't require much strength. Also, the spiritual side can help with inner calm. Training is like meditation.
3. Krav Maga (Israel)
Krav Maga was developed in the 1930s as a way to defend the jewish quarter in Bratislava from anti-semitism. It is a really aggressive and efficient martial art. Many security, law enforcement and military personnel learn it in their training. It isn't practiced for sport and is often described as without rules or limitations. Emphasis is on devastating attacks to opponents' vital areas in order to incapacitate them quickly and efficiently.
Who is it for?
Krav Maga is ideal for anyone who wants a quick and easy to use street survival system. The specific focus is for use in real life defensive situations. It doesn't take long to learn the skills. However, the ruthlessness might deter some people.
4. Jujitsu (Japan)
Jujitsu was first developed by the Samurai. They named it in the 17th Century and it means the "art of softness". The softness employs balance, leverage and momentum. It focuses on grappling, throws, pins and joint locks with as little energy expended as possible. Don't be fooled though since Jujitsu is ruthless and aggressive; almost anything goes. Some moves, if learned correctly, can seriously injure your opponent with one blow. Some tactics like gouging, biting and poking are taught.
Who is it for?
Jujitsu is effective in close-quarter combat. It is suited for people who like its aggressive nature. The anything goes aspect it teaches would be beneficial in a real life or death situation. However, like Krav Maga, the ruthlessness might deter some people.
5. Eskrima (AKA Escrima/Kali/Arnis) (Phillipines)
The origin of Eskrima predates the Spanish invasion of the Philippines in 1521. It emphasizes weapons like sticks, knives and swords for use in battle. Footwork is an important component. Intricate stances and stable low positions are important. Its philosophy is to teach very simple, basic skills. This philosophy of simplicity is important since only effective, easy skills that could be taught in large groups were used.
Who is it for?
Eskrima is good for those that want an emphasis on balance, focus and adaptability. These are very good skills to learn for everyday life. The ability to work with various weapons appeals to many people. The philosophy of simplicity is another reason people are drawn to it.
6. Taekwondo (Korea)
Taekwondo's origins are shrouded in mystery. It was created in Korea, but no one knows when. Even though it is translated as "the way of the fist and foot", taekwondo is known mostly for its swift powerful kicks than hand strikes. Students are encouraged to live by the tenants of Taekwondo which are: respect, integrity, perseverance, self control and courage.
Who is it for?
Taekwondo is ideal for anyone who wants to use kicking motions. It is extremely popular so finding a site that teaches this will be easier than some other martial arts. Also, breaking boards and bricks is commonly done in this art. The others don't do this as often.
7. Kung Fu (AKA Wushu) (China)
Kung Fu is one of the oldest martial arts in the world. Chinese Emperor Huangdi, who started reigning in 2698 BC, is said to have introduced this martial art to his soldiers as part of their training. Today, there are thousands of styles of Kung Fu including Shaolin and Tai Chi. Kung Fu literally means an accomplishment gained through hard, long work. Technique varies across the styles of Kung Fu, but most use grappling, throwing, kicks and punches. The use of weapons is also common.
Who is it for?
Since Kung Fu has so many styles, it is easy for someone to find one that will suit them. The emphasis on so many types of attacks is a good all around way to train every part of the body. Kung fu is renowned for its beautiful and flowing form.
8. Karate (Japan)
Karate originated in the 1300s and is one of the most popular martial arts in the world. It means "empty hand" since no weapons are used. In 1908 Karate was given a martial arts code that many students have used as a way of life. In traditional Karate, the true opponent is oneself. Emphasis is given to hard blocks, punches and kicks. Karate is said to teach students to strike in a way that makes their legs and hands become spears.
Who is it for?
Karate is a good martial art for anyone who wants a full body physical workout. The philosophical teachings are focused on attaining a balanced and happy life. Karate is suited for people who want to learn hard forceful actions.
9. Brazilian Jiu-Jitsu (Brazil)
Brazilian jiu-jitsu was founded in the early 20th Century by Mitsuyo Maeda, a Japanese fighter heavily influenced by Judo. He was so tough that he was nicknamed "the toughest man who ever lived". Like traditional jujutsu and judo, Brazilian jiu-jitsu emphasizes throws and groundwork. It promotes the principle that a weaker person can successfully defend themself against bigger, stronger opponents by using leverage and technique. Live drilling play a major role in training.
Who is it for?
Brazilian jiu-jitsu is heavily related to judo. However, the main difference is that judo relies more on throws and Brazilian jiu-jitsu relies more on groundwork. This martial art is very popular with mixed martial arts fighters.
10. Muay Thai (Thailand)
Muay Thai is the national sport of Thailand. It is very similar to kickboxing except blows below the belt are allowed. Muay Thai is also more brutal than kickboxing. Fighters are allowed to use fists, shins, elbows and knees. The origin of Muay Thai is very unclear, but its popularity exploded in Thailand in the late 1800s.
Who is it for?
Muay Thai is suited for anyone who wants to make their whole body into a weapon. It is considered the "art of eight limbs" since it uses the hands, feet, shins and knees as points of contact. Muay Thai is designed to promote the level of fitness and toughness required for ring competition.