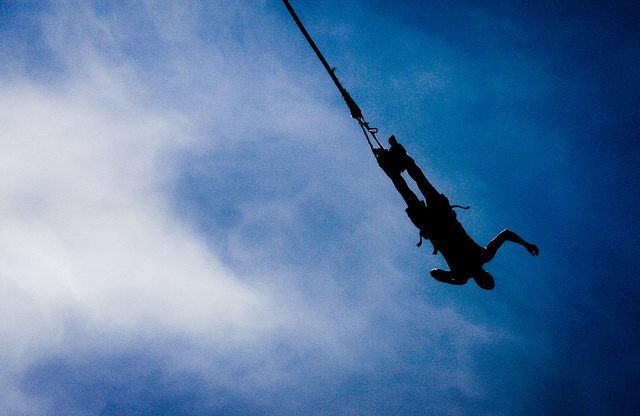 "Do one thing every day that scares you." – Eleanor Roosevelt
When I was a little boy, I was afraid of just about everything. Too shy to make many friends, I kept my social circle small. I shunned change and risk-taking; the thought of doing something crazy like traveling to another country didn't appeal to me.
As I grew up, I started noticing all the opportunities I'd been missing. My own fear made me miss out on fun adventures and many potential friends.
So one day I decided I had to face down the things that scared me. If a great opportunity came along, I had to take it – no matter how scary it seemed.
Funnily enough, the more I did the things that scared me, the more I realized just how safe these things actually were. Instead of running away from crazy, scary things, I started to run towards them.
The little boy who was once afraid of travel started to visit exotic far-off locations. I did things that once seemed way too crazy to attempt like swimming with sharks in Belize or hanging out with locals in Vietnam.
I stretched my social skills too. Long ago, the thought of approaching a cute girl and starting up a conversation seemed terrifying. So I faced that fear and started striking up conversations whenever I wanted.
It didn't feel like life was passing me by anymore. In fact, doing things that scared me made me feel more alive than I'd ever felt. Nothing seemed beyond my reach.
Here's what I've learned along the way.
1. Minimize thinking once you've decided to do it
Fear is an expectation of what might happen in the future if we take a certain course of action.  Because we don't know what will happen on the scary path, the uncertainty can feed our fears and make us envision all the potential bad things that might happen.  It's easy to get lost in these thoughts and psych yourself out before you even take the first step.
Train your brain to ignore these thoughts. When you're mind starts racing, calm it down and get back to reality. Many of the fears you'll focus on will be nothing but your imagination going wild.  It's good to be aware of all the potential dangers, but you can't dwell on them.
2. Scary things=growth
Remind yourself that the biggest moments of growth happen when you do something scary. It's always scariest the moment you move away from your comfort zone and try something completely different.
Sticking to the safe and familiar will assure that you continue to see the same results in your life.  By moving away from the norm and facing down those fears, you'll get places you've never been before.  To get somewhere you've never been, you have to do things you've never done.
3. Get pumped up to do it
Fear isn't the only feeling you'll get when you think about trying something crazy; it can also feel thrilling and exciting.  But too often, the fear overrides those feelings keeping you from actually doing it.
Pump yourself up.  Get so excited that fear is crowded out and diminished in size.  When you feel that exciting energy surging inside you, you'll get the inspiration and motivation to get yourself going and you'll think less about the fears you might have.
4. Start small, aim big
Let's say that you want to skydive. It might be too scary an idea to immediately hop on a plane, go to 16,000 feet and parachute out. You might be jumping the gun a little.
That's why skydiving places have a period of preparation and training involved before you even step into a plane.  They know it's important to build up to that big moment.
It's okay to start off with small, steady steps to reach one big scary goal. By taking it in small, more manageable chunks, you'll find it's easier to keep pushing yourself to the end.  All that matters is that you're moving forward to something that you ultimately want to do.
5. Distance yourself from how crazy you think it is
One mental trick that works well for me is to distance myself from the crazy thing I want to do. That can help prevent you from getting too into the moment and psyching yourself out.
Approach it as if you're another person.  See yourself as an observer of the situation almost as if you're watching yourself.  The main idea is to just get outside of your head and dissociate yourself from what's going on.  By disengaging with the situation, it won't seem as scary.
6. Change your attitude about fear
It's not always best to examine our feelings of fear on an emotional level.  Rather than tackling them that way, we should take a closer look at our attitude towards it.
Think back to the last time you did something really scary.  It didn't seem so scary after the fact, did it?
That situation goes for all fear – it goes away once you've actually done it.  It just drifts away because the reality isn't as scary as the fantasy happening inside your head.
Whatever you're thinking about doing will be exactly the same.  You'll feel scared before doing it, but feel better once it's over.  If you don't do it, that fear will always be with you.  Imagining that fear vanishing away after the fact can be a good source of motivation.  All you have to do is just start.  Do it now and let the fear fall away later.
photo credit: Matthew Kenwrick