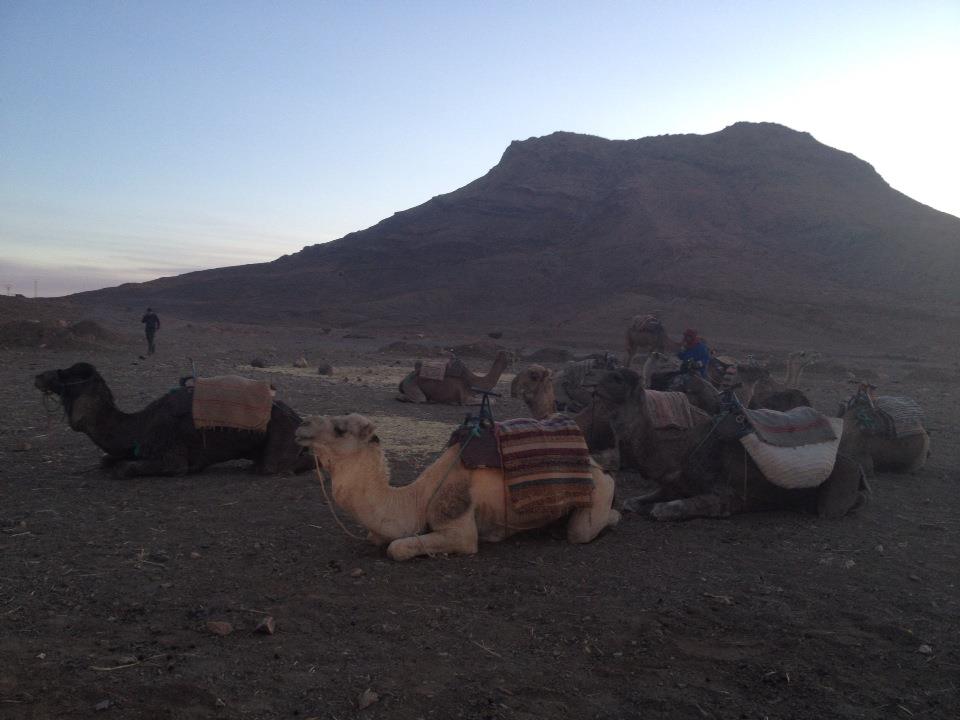 I've had a long fascination with the Sahara desert.  When I was a little kid, I watched TV shows depicting the desert as teeming with bandits, nomadic tribes, oases and high adventure.
So when I heard you could actually trek out into the Sahara and spend the night in a nomadic Tuareg camp, I jumped at it.  I was able to arrange it while student teaching in Morocco.
Even though I knew the bandits were mostly fantasy, I still expected a grand adventure.  And it was.  But it also taught me a lot of lessons about life, travel and my place in the universe.

Camel Trekking – Lessons Learned
Before I even thought about mounting a camel, I had to overcome one major obstacle: who to trust to take me out into the Sahara.
I'd heard a lot of stories about guides taking people out into the desert only to demand an extortionate amount of money to take you back.
If you think about it, you're putting a lot of trust into someone you've just met.  For all you know, they're only taking you out there to rob you.
So I did my due diligence.  I did a lot of online research with forums, Tripadvisor and company websites.  Eventually I picked a guide service that seemed honest and reliable.
Lesson Learned: Be careful who you trust while traveling.
There were four of us – me, my wife and my parents.  In addition, we'd be joining two others on the trip.  A van would pick us up outside a Riyadh in the old medina quarter in Marrakech.
The driver was taking us to Merzouga where we'd be departing on our camel trek.
If you look at a map of Morocco, you'll notice the distance between Marrakech and Merzouga isn't that much.  If it were a straight shot, it would only about a four hour drive.
But there are mountains.  We had to zip back and forth, up and down several mountain paths along the way.  When you factor that in, the drive takes over seven hours.
We eventually reached a flat vacant field with a dozen sitting camels (technically speaking they were dromedaries).  From there, we loaded our stuff, mounted the camels and headed straight into the Sahara.
Our guides were Tuaregs, nomadic people.  They didn't speak much English, but knew French.  Since I was the only one in the group who spoke French too, I acted as a translator for the rest of the group.
Riding camels can be tough.  If you can't find a good position, it's going to be uncomfortably bumpy.  They're fun to ride for the first 20 minutes, but after an hour, you're ready to just get off them.
Needless to say, with the long car ride and rough camel trek, all our butts were sore.
Lesson Learned: The journey isn't always better than the destination.
Where There's a Will…
The campsite made the rough journey completely worthwhile.  It was in the middle of the desert with no signs of civilization – only desert.
We ate dinner and drank mint tea.  Afterward our Tuareg guides took us into the middle of the campsite, lit a fire and played music for us.
I planned on surprising my wife with a bottle of wine, but I hit a snag: I forgot a bottle opener.  I asked the guides if they had one, but they didn't.  One of them offered to get it open without one.
He grabbed the bottle and shoved his thumb into the cork.  He jammed it harder and harder with his thumb until he unblocked the bottle by shoving the cork completely back into it.
I was impressed.
Lesson Learned: If you want something bad enough, you can find a way to get it.
As night fell, the stars came out.  My wife and I snuck out of our tents in the middle of the night solely to look up at them.
We had to be quiet as everyone else was asleep so we silently looked up at the galaxy.
It's amazing how many more stars you can see when there isn't any city light to crowd them out.  There are so many you don't normally see.
I was in awe.
I've always been fascinated with looking up at the stars.  It makes me ask questions.
Are we alone?
What's the meaning of life?
When you see how large everything is, it makes you feel so small.  For some reason all my problems seem so insignificant in the vast open space.
Lesson Learned: No matter how big your problems seem, they're just a small insignificant part of the universe.
A Sahara Sunrise

In the morning my wife and I awoke before dawn.  A guide took us up a hill so we could watch the sun rise.
About ten minutes later, the sun finally came up over the horizon.
It was so clear and beautiful.  I find it amazing that something so simple and commonplace can be so remarkable.
Lesson Learned: Never forget about the beauty of everyday life.
After breakfast, we packed up our stuff and headed back to civilization on our camel convoy.
We were all tired including the driver.
The whole drive, he blasted music and drank coffee to stay awake.
Under normal circumstances that would make me uneasy.  Add to that, those narrow mountain roads and it becomes even scarier.
Fortunately there are guide rails in case he veers too far to one side, but still those steep drops didn't comfort me.
Lesson Learned: Don't let an overtired man drive you on mountain roads.
Ok, I shared my lessons. What lessons have you learned while traveling?