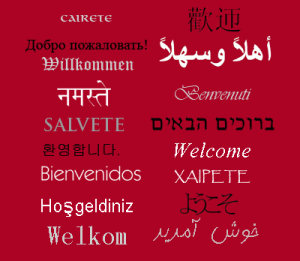 Traveling is a great way to see a country and learn about the people who live there. But if you really want to learn what makes them tick than you need to learn their language. Immersing yourself in a new language can seem like a daunting task. Fortunately, there are great free resources available to turn your first few words into fluency.

A great resource to get you going. There are videos, pronunciation guides, words of the day and many more resources. This is a huge and extremely useful site on learning foreign languages. You can find useful phrases and words in many languages including many relatively obscure ones such as Luxembourgish. This is a great place to start.
This site can really increase your vocabulary and syntax. There are lists of online dictionaries, videos on Youtube and other language learning tools. One great feature is that you have access to chat rooms in foreign languages. That is your opportunity to try out what you've learned and practice. And practice is the key to becoming comfortable in a new language.
This site isn't intended to be used as your sole learning site. It is a supplement to your main learning source since it is a source for memorization of material, not understanding how to use it. There are many lessons to go through including flashcards, games and other study materials. Very useful for memorization, but you should already be familiar with the basics of the language.
A language learning community. There are so many cool features on this site. There are tons of learning topics, photos and interactive learning lessons for all types of learners. Plus, there is interactive video chat and exams where you can test your progress. More than that, it let's you create a profile. Your profile will track your learning units and you can even connect it to your facebook account.
Madinah Arabic Language Course
This site was set up over 8 years ago specifically to teach Arabic for free. Their goal was to teach Muslims and non-Muslims to learn Arabic so there will be resources you will find useful. There are a lot of e-books for you to download. There is even an option to download the entire website. Flashcards, reading courses and a forum feature on the site. Podcasts are currently not available, but the site says that they are coming in the near future.
Another learning language community. It has over 6 million members making it the world's largest online language community. The site offers free and paid language courses in 35 languages using audio, imagery and text. You can make friends and connect with people all over the world similar to how Facebook is set up. It has a very interactive environment.
This site focuses on just Chinese and Japanese. These languages are harder to learn for English speakers so a focus on these languages on this site can be very helpful if you're trying to learn them. This isn't a free site, but there is an option to try the site out free for two weeks. The site promotes their ability to teach you a new Chinese or Japanese character every 192 seconds. They also claim a retention rate of 95% for those characters. This can be a great resource, especially if you are having trouble writing the characters and/or need to learn their stroke order.
Owned by SIL International, the Ethnologue is a listing of the known living languages of the world. This is the place to go if you want to know more about the language you're learning that goes beyond memorizing vocabulary and sentence structures. It provides greater depth and detail about all existing languages including languages in danger of becoming extinct (currently at 473).
A great resource to learn about the language you want to study, but not a place to go if you want to study the language itself.
One more language community, but this one is different from the others. The focus of this site is to connect you to either native speakers of the language or others studying the same language so that they can help you learn. You have the option to learn from live chat, videos or lessons.