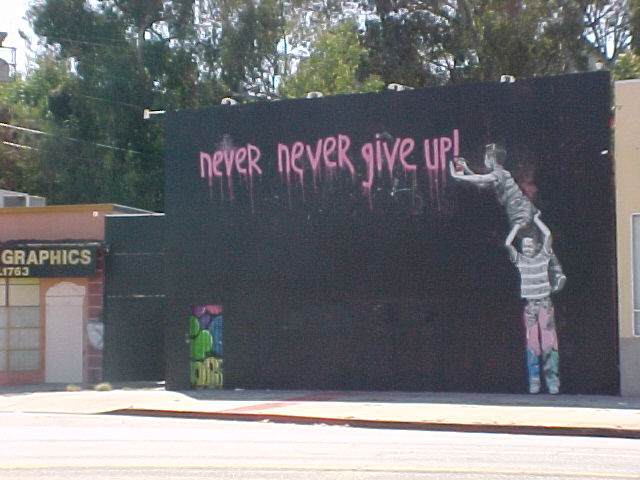 I've accomplished quite a few things in my life.  Over the years, I've learned to set big goals and take solid actionable steps in order to make them happen.
But as I look back on everything I've done, I can't help notice how many of them I had seriously considered giving up.
In fact, some of my proudest accomplishments were nearly tossed aside simply because I didn't know if I could keep going anymore.
Yet in each case, I persevered.  I kept going despite the doubts.  I kept pushing past the fear and ultimately reached my goals.
Whatever goals or dreams you have, you'll inevitably feel like giving up.  It's a fact of life.  If you pursue something long enough, you'll give it serious consideration.
As someone who has gone through that doubt, I can honestly relate to how tempting it is to throw away a big goal.
But those who reach the finish line push past that feeling.
Here are eight reasons you should keep going.

1. Giving up is the only way to truly fail
"There is no failure except in no longer trying." – Elbert Hubbard
A friend of mine once told me that there is no such thing as failure, only feedback.
If you can analyze your mistakes, learn from them and retry, you'll eventually find your way to success.
It's too easy to see yourself as a failure when things don't go right.  But there are many examples of people who didn't get what they wanted at first, but went on to reach their dreams.
Need proof?  Here's a shot list of famous failures.
Michael Jordan was cut from his high school basketball team.
Beethoven was told by many teachers that he was hopeless at composing and would never be good at it.
Marilyn Monroe was let go from a movie studio early in her career because they told her she wasn't pretty or talented enough to be an actress.
Stephen King received 30 rejections for Carrie, threw it in the trash and gave up.  His wife fished it out of the trash and told him to keep trying.
Imagine all the things these people would have missed out on if they had given up.
2. You might be closer to your goal than you realize
"Many of life's failures are people who did not realize how close they were to success when they gave up." – Thomas A. Edison
Success might be just around the corner, but if you give up, you'd never realize just how close you actually are.
Things are often the most difficult near the end; frustration can be high.  This is the time when you'll feel most like giving up.
But you might be just on the verge of a breakthrough as long as you don't end things too soon.
3. Anything is possible
"Nothing is impossible, the word itself says 'I'm Possible'!" – Audrey Hepburn
Don't discount something because you think it's impossible; it doesn't help.  Only think about the practical steps you need to take to reach your goal – that's what matters.
Many great things people have done were once regarded as impossible.  But those people kept going because they knew impossible only meant no one had done it before, not that it couldn't be done at all.
Don't misinterpret something difficult as impossible.  It might just take a little more work to accomplish it, but you can do it as long as you don't give up.
4. Reaching goals is a marathon
"Life's a marathon, not a sprint." – Phillip C. McGraw
Reaching goals means working over a long period of time and waiting things out over the long run.  Overnight success doesn't happen.
Don't think in the short term.  Don't be on shortcuts.  Realizing your goals means thinking like a marathon runner.  Just put one foot in front of the other enough times and eventually you'll reach the finish line.
5. Everyone experiences setbacks – no exception
"You have to keep pushing towards those dreams no matter what setbacks happen." – Anthony Hamilton
The wrong lesson to take from a setback is to see it as a sign you shouldn't be going after what you want.
A writer-friend of mine once told me that rejection letters were good for him.  It's a sign that you're sending things out and putting yourself out there.  He hung them up to motivate him to do even more.
We all have to go through it.  See at as proof that you're working towards your goals and taking chances.
6. You are strong enough
"You have power over your mind – not outside events.  Realize this, and you will find strength." – Marcus Aurelius
Thoughts about giving up doesn't mean you're weak.  It doesn't mean you don't have what it takes to persevere and get what you want.
There will be times when you think you don't have what it takes to reach your goals.  But as long as you keep going, you're strong.
It doesn't matter if you think about giving up 1000 times.  If you ignore the thought every time and persevere, you'll still get there.
Find your strength to keep going – whatever it happens to be – and hold onto it.
7. If it's been done before, you can do it too
"People who say it cannot be done should not interrupt those who are doing it." – George Bernard Shaw
Look at what you're trying to accomplish.  Has anyone else done what you want to do?  If so, what makes you think you can't do it too?
There's no reason why you can't do it too.  Someone in this world has removed all doubt that your goal is realistically achievable.  Don't give up…they didn't.
8. Do it for yourself
"I'm not trying to prove anybody wrong, I'm just trying to prove something to myself." – Mike Piazza
Believe in yourself and your goals.  Don't listen to the nay-sayers who say you can't do something.
Prove that the faith in yourself was justified.  Prove that all the hard work you put in was worthwhile.  Do it because you know you can do it.
Self-confidence is a powerful attribute.  With enough of it, you can overcome almost any obstacle.
photo credit: joey zanotti