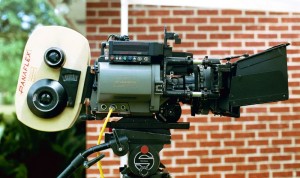 I got a great response to the first half of this list. If you haven't read the first half yet, I suggest you start there. Many people were just as moved by these travel movies as I was. I know that there are more travel movies out there since I got some great recommendations for more and I wish I could include them all, but that would probably make this list massive.
Now that we've seen New Zealand through Lord of the Rings, France with Amelie and just about everywhere else with Indiana Jones, let's see where else there is to go in this second half of the list.

11. The Namesake
(India)
The story of the Ganguli family who move from Calcutta to New York. This travel movie is about the struggle the parents have with continuing their culture in a new land. Their son Gogol is divided between his desire to find his own unique identity and clinging to his heritage. The movie includes many shots of Calcutta in West Bengal and Taj Mahal interspersed with shots of New York.
12. The Beach
(Thailand)
A young backpacker Richard travels through Thailand where he meets a crazy man named Daffy who rants about an island paradise. Richard sets out to find this island where they encounter a community who already live there.
Filmed entirely in Thailand and especially on the island of Phi Phi, this movie also has scenes at Khao San Road and the waterfall scene was actually in Khao Yai National Park on the Mainland. There has been a lot of criticism aimed at this movie since many palm tress were imported to make the beach look "perfect". Also the tourism industry exploded there after the movie making this idyllic locale almost a travel cliché.
13. The Motorcycle Diaries (Full Screen Edition)
(Latin America)
This traveling movie follows the travels of Che Guevara and his friend Alberto as they motorcycle across Argentina, Peru, Chile, Colombia, Venezuela and Cuba.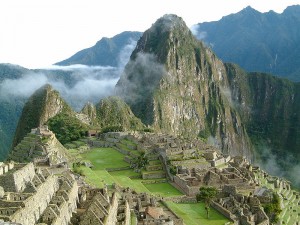 The movie was filmed on location for almost every scene that takes place.
During the course of the movie, shots of Machu Picchu, the Atacama desert, Lima, Caracas and Havana among others can be seen. A scene in San Pablo, Peru where Che and Alberto visit a leper colony was filmed in the same leper colony the duo actually visited in real life. In fact, some of the lepers filmed had met them and were still living there.
14. A Room With a View (Two-Disc Special Edition)
(Italy & England)
Lucy is a young Englishwoman on her first visit to Florence, Italy. There she meets a man named George who she becomes attracted to. Now she must decide between George or her pending marriage with her fiancé Cecil.
Closely adapted from an E.M. Forster novel (all but the ending is about the same), this travel movie has scenes all over Florence and parts of London. There are many famous Florentine landmarks in the movie including the Piazza della Signiori and the fountain of Neptune.
15. Crouching Tiger, Hidden Dragon
(China)
Crouching Tiger, Hidden Dragon is about the disappearance of a magical jade sword and the quest to find it through ancient China in the Qing dynasty. This movie travels all throughout China and is actually based on book four of a five part series of books. The action scenes are choreographed across the beautiful Chinese countryside.
16. Cloak & Dagger
(San Antonio, Texas)
Davey is an eleven year old boy who immerses himself in a fictional spy game so much that he even makes the hero of this world his imaginary best friend. Davey's world changes completely when he accidentally crosses a gang of real life spies.
The movie was filmed in San Antonio, Texas so famous city landmarks are the backdrop to this spy movie. The Alamo, the beautiful San Antonio River Walk, and the Japanese Tea Garden are all showcased.
17. The African Queen
(German East Africa)
On a missionary trip, Rose finds out from a local steamboat captain Charlie that World War I has broken out. The problem is they're stuck in German controlled east Africa (now modern day Burundi, Rwanda and Tanzania). For a film made in 1951, there is a lot of filming on location. Many scenes were filmed in Uganda and the Democratic Republic of the Congo.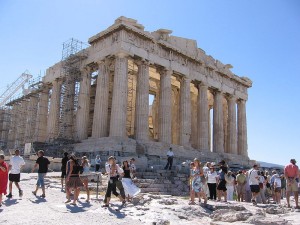 18. My Life in Ruins
(Greece)
Georgia is a tour guide who leads groups around the ruins of Greece. Her life takes a personal detour when she gets romantically involved with her Greek tour bus driver. This film is set on location in several places around Greece.  These locations include Olympia, Delphi and Epidaurus.
Additionally, they shot on location at the Acropolis. This is the first time a film studio was allowed to shoot on location there.
19. Under the Tuscan Sun (Widescreen Edition)
(Tuscany, Italy)
Frances is a writer who just got divorced. Depressed and suffering from writer's block, she decides to take a trip to Tuscany. The rest of this travel movie is about her buying a villa and her adventures with her new neighbors. Filmed all over Tuscany with a few scenes in Rome and Positano, it shows a beautiful rural landscape.
20. The Story of the Weeping Camel
(Mongolia)
It's springtime in Mongolia for a family of nomadic shepherds. One of their camels gives birth and subsequently rejects the newborn. Despite their efforts to have the mother accept the child, they have trouble reconciling the two. This movie about travel is filmed in parts of Inner Mongolia including the Gobi desert. It provides an inner look to family's nomadic life and rituals.