When you set your mind on something, it's amazing how far you'll go to achieve it.  That's the lesson I learned after almost seven hours of continuous writing.  By the time the day finished, I had written 10,084 words, finished a lot of blog posts and obtained a huge sense of accomplishment.

The Inspiration
The idea to write 10,000 words in one day happened spur of the moment.  The night before, I was staring at the 200 or so blog post ideas I have listed out on a Word document in my computer.  I write so many ideas down and never seem to use them – I felt like I should do something with them.
So I looked through them all and pulled out some really compelling ideas.  Eventually I had a short list of about 15 blog post titles.
Then I started to think up a challenge.  How long would it take me to finish them?  How many words can I really write?  Normally I can type 60-70 words per minute, but writing a blog post is slower because you have to think more carefully about what words to use.
I seem to write about 1000-1500 words an hour for a blog post.  That means I could probably get a lot of writing done if I just sat down and wrote nonstop.  What if I put in 7-8 hours of writing?  Could I write 10,000 words?
The Challenge was set.
On Writing 10,000 Words in One Day
Once I had set my goal, I resolved to see it through to the end.  I would not find an excuse to prevent me from doing it.  It was something I had to see if I could do.  Even if I failed, I wanted to know what my limits are.
I woke up the next morning, fresh and ready to go.  I had slept in later than normal, but not too late to discontinue my plan.  So I opened up my computer to pull up the first empty document, put on some music and started typing.
I knew that in order to be successful at this, I would need to take a five minute break for every hour of writing.  Getting to 10,000 words was an important goal for me, but it would do me no good if they were all terribly written.  Regular breaks would keep my mind nimble so all the words wouldn't end up being trashed after finishing.
I also decided to keep a time log of how things progressed.  A set a timer to go off every hour and I would stop when it rang.  At that point, I would tally up the number of words I'd written, calculate what my words per minute was and any general thoughts about how things were progressing.
Here's that time log: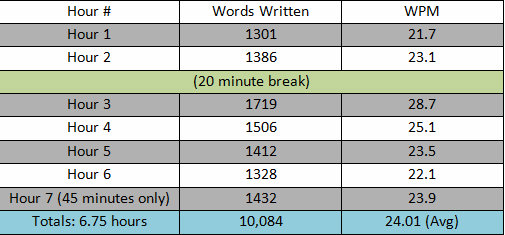 The first two hours were difficult.  Sometimes I have trouble starting to write and the thought of how far I had to go was a little daunting.  One thing I found really surprising is that the hour with the least amount of words written was the first.
After the second hour I got very hungry so I took twenty minutes off to eat.  I had five more hours of writing to go at this point.
Hours three through five were surprisingly good.  In fact, the third hour was my most productive.  I expected to be mentally tired at this point, but I wasn't.  In reality it was like I had just got a second wind during a long foot race.  I felt this giant burst of creative energy come out of nowhere.
If that was my second wind though, then I hit the wall sometime during hour six.  By hour seven, I had enough.  I stopped going 15 minutes before the timer went off.  My writing at that point wasn't the greatest, but I think I can edit it to something much better.  So even then I won't be throwing any of it away.
Setting Challenges
When I set this challenge, I had no way of knowing how well it would turn out.  I had never attempted to write for so long and for so many words in one sitting.  For all I knew I wouldn't make it past hour three and much of the writing would be useless.
But I think that it's important to set challenges like this.  It's good to set the bar higher than where you normally go.  Those times when you push beyond your limits are when you most grow.
On the surface, my goal was to see if I could write 10,000 words in one day, but underneath that I had another goal: to see just how far I could push myself.
And I think that's what is so valuable about setting challenges like this.  After my writing time was over, I had discovered what I was capable of doing and what my true potential is.  And really, that's more important than all those words I wrote down.
photo credit: djking