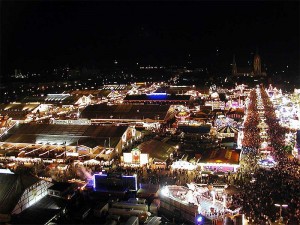 Walk into any bar in the world and you'll find friends having fun, sharing tall cold ones. The communal aspect of beer is what draws millions of people each year to beer festivals around the world.
There is no shortage of beer festivals to choose from. I've narrowed the list down to the biggest beer drinking parties in the world. So if you're looking to expand your beer drinking repertoire or just looking for the biggest party around, check out some of these festivals and have a pint or two.
1. Oktoberfest – Munich, Germany
Late September to early October
This is the biggest beer festival in the world and probably what comes to your mind when you think of the world's best beer festival. If you can only make it to one beer festival, this is the one to go to. Oktoberfest is a 16 day event where 6.9 million liters of beer is drunk by about 6.2 million people. It has been celebrated since 1810. The beer festival is also known for its traditional German food and traditional Bavarian costumes. Oktoberfest is so popular that other areas around the world with German populations have their own Oktoberfest celebrations including Hong Kong, Vietnam and the largest outside of Germany in Brazil.
2. Great British Beer Festival – London, England
Early August
This festival is called the "biggest pub in the world". It is organized by the Campaign for Real Ale (CAMRA) which sets up many other beer festivals in the country. In 2006, CAMRA estimated that one pint is sold every half second at the festival. The festival also offers live entertainment and pub games.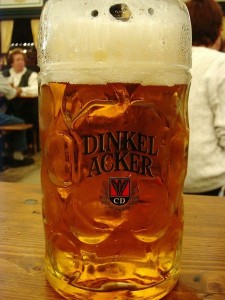 3. Great American Beer Festival – Denver, Colorado
Late September to early October
The three days that this annual event is held isn't enough time to sample the over 2000 beers from about 450 American breweries. This is more than just a beer festival too, it is a competition. Over 100 judges from the United States evaluate over 3000 beers and award medals to winners. According to the Guinness Book of World Records, the festival is the largest venue for draft beer variety.
4. Great World Beer Festival – New York City, New York
Late October
Held over two days, this festival is billed as the "United Nations of Beer". For a small entrance fee, attendees receive a glass to get unlimited samples from over 100 microbrewers. The festival is designed to promote craft beers so you can be assured that you will find something new to try.
5. Vermont's Brewers Festival – Burlington, Vermont
Middle of July
Vermont is home to more breweries per person than any other state. Every one of them is a microbrewery. With such a love for beer, it makes sense that the longest running outdoor brewers festival in the East is located here. It is a great place to try unique flavors like fruit beers and barley wines. Brewers participate by invitation only, based on distinctiveness and quality.
6. Mondial de la Biere – Montreal, Quebec, Canada
Early June
This is Canada's largest beer festival. Breweries from all over the world come here to showcase their beers. Most of them are beers for regional sale oftentimes exclusively for restaurants. Another highlight of this festival is that teachers from a local beer school (yup, you read that right, a beer school) offer workshops and answer questions on beer making.
7. Constatter Volksfest – Stuttgart, Germany
End of September to early October
This two week festival is actually an autumnal fair even though it is referred to as a beer festival by the locals. Despite not technically being a beer festival, it is considered the second largest beer drinking event in the world after Munich's Oktoberfest. Added attractions include the world's largest portable ferris wheel, oompah bands, and a 26 meter high column covered in fruit which is a symbol of the festival. This festival begins one week after Munich's Oktoberfest so there is opportunity to go to both in a row.
8. Brussels Beer Weekend – Brussels, Belgium
Early September
This festival is organized by the Belgian Brewers and the Knighthood of the Brewers' Mash Staff. The knighthood is a modern day incarnation of a centuries old beer maker guild which makes it seem that Belgians take their beer very seriously. About 225 beers are offered in stands operated mostly by the beer brewers themselves. This offers the chance to ask questions on how specific beers are made.
9. Oregon Brewers Festival – Portland, Oregon
End of July
This four day event is one of the nation's longest running craft beer festivals. Over 80 breweries from across the United States take part in this event. The selection is unique with many fruit beers like watermelon selling out quickly. Some breweries even offer beers specifically made for this festival. The focus is on craft beers with plenty of opportunities to learn about beer styles all over the country.
10. Bitter and Twisted International Boutique Beer Festival – Maitland, Australia
Early November
Featuring over 50 craft beers from around the globe, this festival is better known for taking place inside of an ex-maximum security jail. However, the event includes musical acts and boasts about the "best prison food you'll find". This also provides a rare opportunity to actually get drunker leaving jail than when you entered.
What beer festivals have you been to? Or is there one on here that you really want to visit?